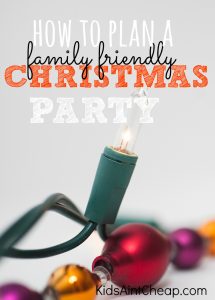 While some people dread them, one of my favorite parts of the Christmas season is the parties. I love socializing with all of my favorite people at the same time. It's a great way to reconnect and often reminds me to make a point of seeing some of these people more than once a year!
Hosting and attending parties pre-kids was easier I won't lie, way fewer logistics to worry about. Remember that, generally speaking, only the people's names on the invitation are those who are invited so if you receive and invite lacking your children's name(s), it's likely that it is an adult-only party so don't ask if you can bring them (unless you know them well and think it was an honest oversight).
I personally enjoy parties where families can come. While a good adult-only night out is fun, Christmas is about celebration with family so my husband and I have made a point of hosting a great Christmas party that people of all ages can enjoy. We never want our friends and family to feel like they need to make a choice between their kids and a good time!
Here's how to plan a family friendly Christmas party.
Start the party at a respectable hour
If your friends and family plan on bringing their children, especially young, it can probably be assumed they will likely need to leave early so to maximize time together, start the party at a decent time, late afternoon or early evening works best find. This gives guests their entire morning to themselves, and allows afternoon naptime for younger kids attending. Any time after 3-4pm usually works well.
Think of the kids when planning the menu
If you love calamari that's great, but I don't know many kids (regardless of age) who do. Try to plan a generally accepted menu. I personally prefer to do buffet style foods since this gives a large variety of food and most people can find something they like. I have distinct memories as a child attending these parties with my parents and me leaving hungry because I didn't like anything beyond the cheese plate. Never again. If kids will be there, think of them!
Give the kids something to do
I remember one party in particular when I was a kid where the hosts set up a movie theater in their loft/attic. It was amazing. They had popcorn, treats and pillow for us. The age range of kids was probably 2-16 years and we all hung out looking out for each other watching Christmas movies. Last year my husband and I went to the local dollar store and bought the kids at our party each a coloring book and box of crayons, this way they were all with us but hung out together coloring in each others books (we bought them all different ones and let them decide). It cost us less than $10 and was a huge hit with parents.
Considering hiring a babysitter
Though this was something I don't think I would ever do, my sister was recently hired to be a babysitter at someone's party (whom she didn't know). She replied to a public add looking for someone to help. There was a large party going on (100+ people) and they wanted an adult supervisor for a kids room they set up at the event, about 15 kids of all ages. She stayed for five hours, made some extra money and basically just made sure the kids were safe and not bugging the adults too much. The room also had some cribs/beds/highchairs for use.
I personally sort of enjoy the insanity of having the young kids run around high on sugar they stole, the older kids usually finding a spare television and everyone being together under one roof!
How do you make your parties kid-friendly?
Catherine is a first time momma to a rambunctious toddler. When she isn't soaking up all that motherhood has to offer, you can find her blogging over at Plunged in Debt where she chronicles her and her husbands journey out of debt. You can also follow her on Twitter.