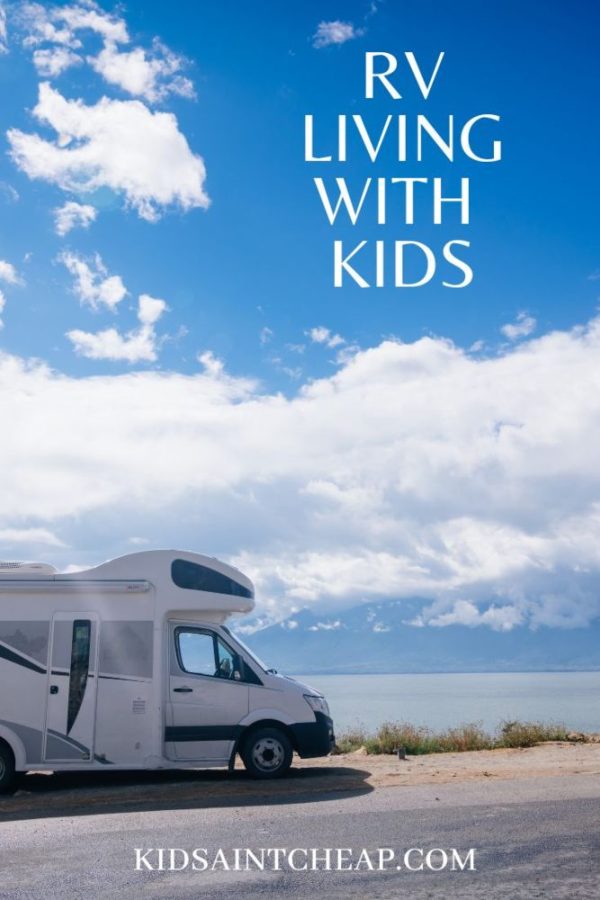 When my grandparents retired, they sold their house and began RV living full-time. They would travel year-round, but for about six weeks every summer, they would park their RV in our yard, which I loved. They loved the low cost and the freedom to go anywhere. However, though my grandma never complained, I know that she was sometimes frustrated by the lack of space. I think of the two of them whenever I read about the recent trend of RV living. Of course, this trend is not for everyone, but for certain families, RV living full-time with kids can offer incredible freedom.
How to Make RV Living Full-Time with Kids Successful
If you're thinking of making the leap to RV living, you need to first lay the groundwork.
What to Do Before You Begin RV Living Full-Time
Before selling your house and buying an RV, ensure you'll enjoy the lifestyle.
Rent or Borrow an RV
First, rent or borrow an RV and take the kids on an extended trip. You'll see what it's like to live in tight quarters as a family. The average American house is 2,200 square feet, but a 26-foot RV has only 230 square feet. So, you and your family need to get used to living in only 10 percent of the space you're accustomed to. That can be a hard adjustment for many.
Don't Sell Your House for the First Year
You may be tempted to sell your house to make money to buy the RV and travel, but if possible, try to hold onto your home for the first year you're living in the RV. Even if you try out RV living for a few weeks, that's not the same as living in an RV full-time. You may get a few months into RV living and decide it's not for you. If that's the case, you can always move back into your home with few repercussions. If you sell your home before moving to RV living full-time, you'll have to start over if that lifestyle isn't for you.
Suggestions for Smooth RV Living with Kids
If you try out RV living and decide you like it, there are steps you can take to adjust more quickly to the lifestyle.
Downsize
If you're going to leave a 2,200 square foot house to move to a 230 square foot RV, you'll need to downsize. . .a lot! Plan to get rid of 80 to 90 percent of your stuff.
Watch videos on minimalism and capsule wardrobes because that's what you and the kids will need. If you don't think you'll live the RV lifestyle forever, put your things in storage. Otherwise, sell what you can and give the rest away.
Agree on Privacy Rules
There isn't much room for privacy in an RV, so for your sake and the kids', agree on rules from the beginning. For instance, if the bathroom door is closed, someone is in there, so don't go in. (Leave it open the rest of the time.) Consider putting curtains around beds that aren't in their own rooms. When someone is on their bed with the curtain closed, respect their privacy and leave them alone. This will be more important as your kids head into the tween and teen years.
Choose Child-Friendly Camping Sites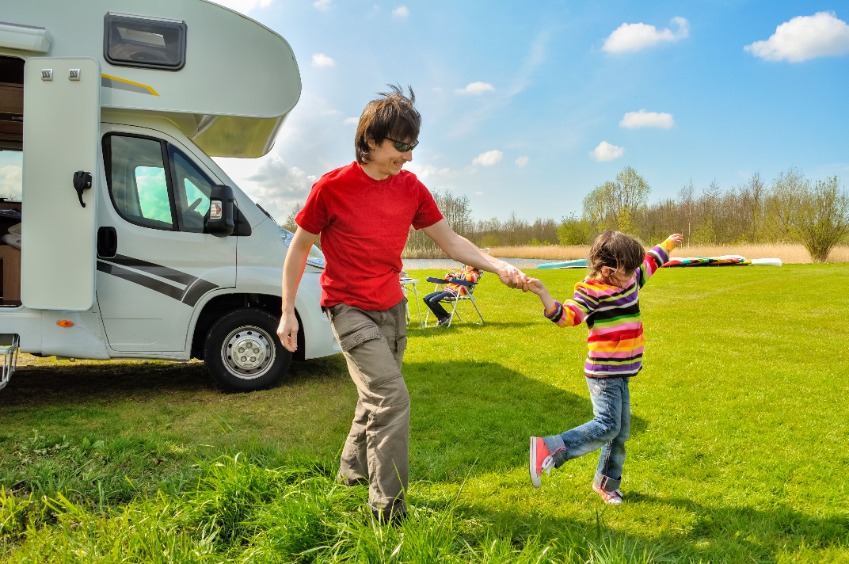 Some campgrounds aren't child friendly. When choosing campsites, find ones with playgrounds so the kids can play. It would be even better to find campsites near lakes and hiking trails so you can take the kids for a swim or a hike. Kids need time to get out their energy, especially if most of their time is spent in the RV.
Consider Homeschooling
When you begin your new lifestyle, you will need to look at school choices for kids. If your kids are in traditional brick-and-mortar school, you'll need to make new arrangements. You have two options.
Homeschool
You could homeschool, which offers maximum convenience because you can homeschool while traveling. Even better, you can make your travels part of your homeschool by visiting historic attractions and studying the geography of the areas you travel to.
Online School
Another option is to have your children enroll in an online school. This is an excellent option if you plan to put your children back in traditional school eventually. (If you homeschool your kids and try to put them in conventional school later, you may run into resistance from the school district.)
The only drawback to online schooling while traveling is that you may struggle to get a reliable internet connection.
Have Regular Times to Come Back Home
When you hit the road to begin your new lifestyle, you will likely leave behind extended family and friends. To help your children handle possible homesickness, schedule time to return home regularly so your children can see their friends and maintain friendships.
In between regular visits, utilize Zoom to connect with hometown friends and family when you're on the road.
Remember the Lessons You're Teaching Your Kids
RV living full-time can be stressful. However, remember that you're teaching your kids amazing lessons by living this lifestyle. Because you have to downsize to live in an RV, your kids learn to become minimalists. Furthermore, you fill their lives with experiences, not stuff. How many kids can travel around the country as your kids do?
Your kids will see and do things that most Americans don't get to. You can be in Florida one week and in Missouri the next. The choice is yours. In addition, between all the travel, you teach your children to be flexible and go with the flow.
Final Thoughts
RV living full-time with kids isn't for the faint of heart. However, the rewards are rich. You give your children a chance to see the United States in ways few others get to. You are also more likely to grow closer as a family.
Read More
How to Travel with a Kid Who Isn't a Great Traveler
4 Road Trip Tips When Traveling with Tweens
Melissa is a writer and virtual assistant. She earned her Master's from Southern Illinois University, and her Bachelor's in English from the University of Michigan. When she's not working, you can find her homeschooling her kids, reading a good book, or cooking. She resides in Arizona where she dislikes the summer heat but loves the natural beauty of the area.