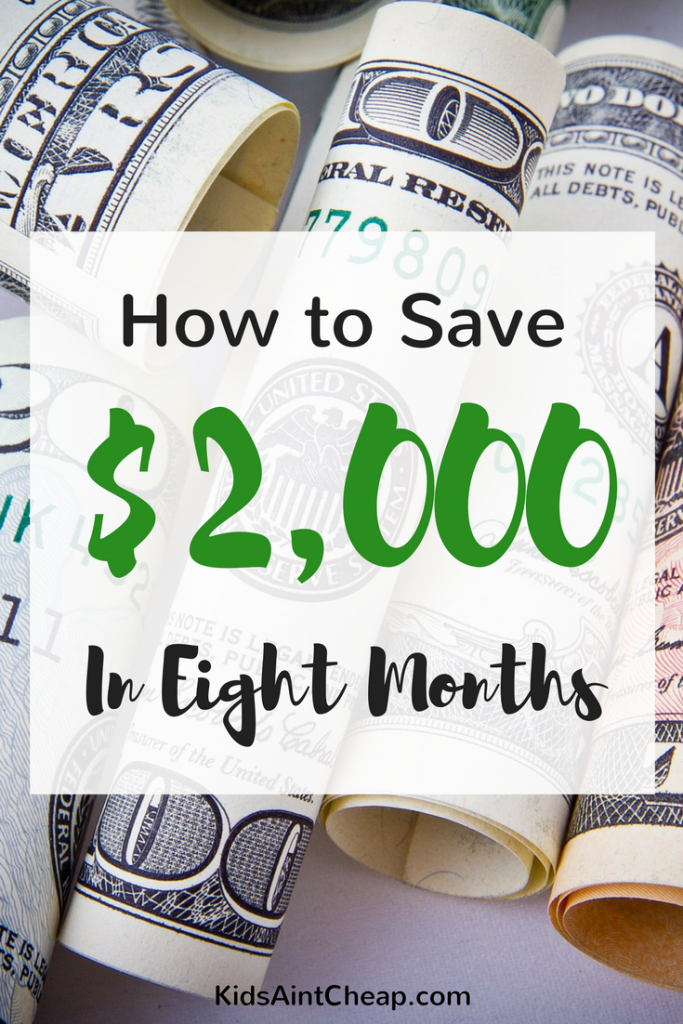 Are you looking to save some serious cash this year? There are many reasons you might want to save $2,000 over an eight month period of time. You may be planning a vacation. Or you might have an upcoming large expense such as a car repair.
How to Save $2,000 in Eight Months
In order to save this much cash, you'll need to save an average of $250 per month. Here are some strategies to help you save $2000 in only two-thirds of a year.
Slash Your Expenses by Living with Only the Basics
Many people can save $250 a month by cutting unnecessary – and even necessary – expenses. Do you have a cable TV or gym subscription you can cancel, either temporarily or permanently?
Can you reduce your grocery or entertainment expenses? What about going on a restaurant ban for eight months? Make a list of every expense you have, and then circle the ones that aren't an absolute necessity to live.
Another way to cut expenses is to work to negotiate hidden costs. Can you shop around to lower your insurance rates? Cut monthly banking fees by switching banks? Stop paying for memberships you no longer use such as magazine subscriptions?
See if you can raise some or all of the $250 a month you need to reach your savings goal by taking a serious and objective look at your expenses and seeing which ones you can live without for a few months.
Bonus Read: "35 Simple Ways for Parents to Save Money"
Sell Things You No Longer Need or Want
Many people have a good-sized collection of things they no longer use laying around the house. Is it possible for you to sell unwanted clothing, gaming systems, sporting goods, recreational items or other things you don't need, in order to raise money?
Is it possible for you to trade in your car for a less expensive model, giving you cash in hand or lowering your monthly auto payments?
By advertising your unwanted items on sites such as eBay or Craigslist, you may be able to raise several hundred dollars or even the entire $2,000 you need.
Earn Some Extra Income
If money is tight in your current situation, you might be able to work to find money to save by looking at ways to earn extra cash.
Is there a place near your home or work where you could pick up extra hours on nights and weekends, such as a restaurant or retail establishment?
Could you use your skills to make extra money? Some ideas for using your skills to make extra money could include:
Selling your freelance services such as writing or graphic design on websites like Fiverr

Babysitting or tutoring neighborhood children

Mowing lawns or doing minor home repair tasks

Offering your home or office cleaning skills for hire
Make a list of your skills and decide which of them you could easily and quickly put to use to make extra money, or find a part time job by looking at job websites or in local newspaper ads.
(Here are 14 work-at-home jobs that can generate a solid living!)
Saving $2,000 in eight months may seem like a daunting goal, but with a little creativity and sacrifice, you can find a way.
What's the first step you need to take in order to begin saving $2,000 this week?