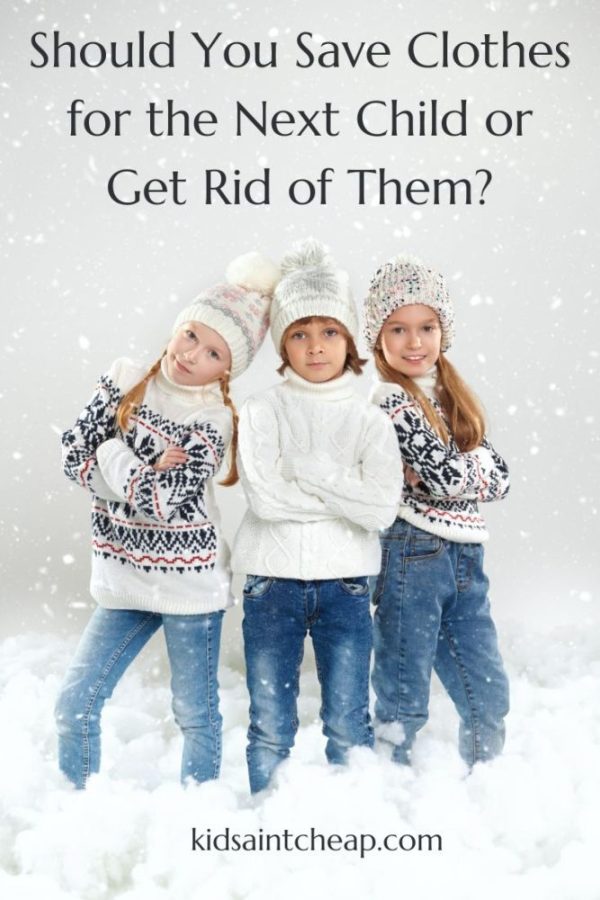 When we had our children, we were on a tight budget. We bought many of our kids' clothes at garage sales, consignment stores, and through steep sales. Buying clothes that were cheap yet looked nice was challenging, so after the kids outgrew their clothes, we opted to save clothes for the next child. For us, the benefits outweighed the drawbacks.
Should You Save Clothes for the Next Child or Get Rid of Them?
We had several reasons why we chose to save the clothes.
Why We Saved Clothes for the Next Child
Clothes Are Expensive
As I mentioned, clothes are expensive. Once we secured them, holding on to them made financial sense. We had to buy some clothes after our first child, a boy. Our second was a girl, and after the baby stage, most clothes we had were boy clothes, so we had to buy some girl clothes. When she outgrew her clothes, we kept both our son's boy clothes and our daughter's girl clothes. Our third child, also a girl, wore her big sister's clothes for years because we continued saving the outgrown clothes. We saved a lot of money by not buying clothes for each kid.
They Have Little Retail Value
The problem is that kids' clothes are expensive, but once your child outgrows them, they have little resale value. So, why not hold onto them? When we were done having kids, we sold some of the outgrown clothes to a consignment shop (and made little money), and we gave the rest away.
We Had Storage
We always had a basement where we lived, so we could easily store the clothes in plastic tubs until the next child came along. However, if you're in a small apartment with little room, you may decide storing outgrown clothes is not the best use of your space.
Tip: Try to Buy Gender Neutral Clothes
One of our strategies for the infant stage was to buy gender-neutral clothes so boys or girls could wear the clothes. For instance, our three kids all came home from the hospital wearing the same yellow outfit with a duck on it.
When Saving Clothes for the Next Child Doesn't Work
We had two instances when saving clothes for the next child didn't work.
First, we only had one boy, so even though we saved his clothes, we used very few of them with our girls. We donated the clothes when we were done having kids.
Second, your kids may be born in different seasons or be different sizes, so wearing saved clothes isn't possible. For instance, our first daughter was born in the fall, and our second was born in the spring. Initially, I couldn't use the first's baby clothes on the second because they were cold-weather clothes, and our second needed warm-weather clothes. However, as they got older, this was less of a problem, and we could take advantage of hand-me-downs.
Final Thoughts
If you have the space and inclination, you can save clothes for the next child to save time and money. Of course, keeping clothes doesn't always work out, especially if children are different sexes or born in different seasons, but if it does work, you'll get to enjoy some of your kids' favorite outfits for a second (or third) time, and you'll have more cash in your pocket.
Read More
Here Are the Best Online Shopping Sites for Affordable Kids' Clothes
How to Have the Best-Dressed Child without Going Broke
How to Save a Ton of Money by Trading Your Kids' Old Clothes
How To Find An Income Restricted Apartment
Melissa is a writer and virtual assistant. She earned her Master's from Southern Illinois University, and her Bachelor's in English from the University of Michigan. When she's not working, you can find her homeschooling her kids, reading a good book, or cooking. She resides in Arizona where she dislikes the summer heat but loves the natural beauty of the area.