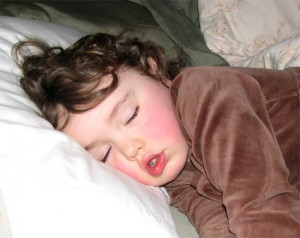 In the beginning, I thought people who placed a whole lot of emphasis on sleep were a tad bit lazy.  Today, it appears that sleep is very important and that those folks were on the right track after all. And sleep is important from the moment your child is born until he or she grows to adulthood.  The growth hormone is naturally secreted when you sleep.  For kids, this is important for the right development.
So it is recommended that they get the prescribed number of hours a day.  For children less than a year it is about 14 hours, for kids ages 1-3 about 12-14, for those aged 3-6 about 10-12, those 7-12 years, 10-11 hours, and those 12-18 years, 8-9 hours a day.
My Worries on Sleep
I used to fret that my kids would not take afternoon naps.  My son especially was immune to the thought.  He has always been the kind of kid that is brimming with energy.  He loves play and socializing and really squeezing every moment out of every day.  My daughter is a little less energetic.  She used to take naps on a regular basis but she has since discovered the joys of packing it in throughout the day. So, gone are her naps.  It is a good thing that my doctor reassured me that as long as they get at least 10 hours of uninterrupted sleep at night, they are fine, they will develop well and healthily, and the growth hormone and all the rejuvenation that happens when you sleep will happen in the right amounts for them.   Whew!
How To Help Kids Get To Sleep
I do have some friends though who are currently having problems calming their kids or getting their kids to sleep enough.  These friends have kids that differ in age.  Some have kids that have just turned one, others in their toddler years, and one who has a preschooler. I have often gotten complements on how disciplined my kids are about how much and when they sleep and I have been told that their growth and general sunny disposition can be attributed to this.  So I am often asked how I do/did it.  And I am always surprised because I didn't really do anything extraordinarily different.  I do always stress though that structure and routine were key components in forming my kids into the way they are today.  So, here is what I did for both kids consistently.
Stress on Consistency:  I did the same thing every day.  I had bath time at a certain time (for example, after 9 am feeding).  I had a specific routine for the day bath, I used different soaps and materials, and a specific routine for the night bath. I didn't force any schedule on my kids.  They told me when they were hungry or needed changing.  But a routine does come out and I followed that and adjusted when I needed to.
Use Cues:  Like I said earlier, I had specific routines and materials for specific activities.  These are known as cues.  So when my kids would smell the lavender soap I used for night time, they knew that sleepy time was coming.  When I would play the classical music, they knew it was afternoon nap time.  When the lights went out and curtains were drawn, they usually fell asleep fairly quickly.  And as they grew and required less waking moments to drink milk, they slept longer and longer intervals until they slept right through the night.  Today, they sleep from 7-8 on weekdays, 9-10 on Fridays and Saturdays, and wake up 10-11 hours later.
Follow Through:  I kept both things- consistent routines and cues- going.  I use them today.  They know that when they get up, after maybe half an hour, they should be getting breakfast.  They know that after school, they have lunch and then their bath, and then their homework and then they play.  They know that they can play and play to their hearts content but when the sky goes dark and the clock strikes 6, they need to calm down and have dinner.  And they know that after resting, they have to take their bath, and then go to sleep.  Usually, they like a good bed time story or telling me something especially interesting about their day.  But when the lights go out, they know it is sleep time and they consistently fall asleep a maximum of 30 minutes after this.
I am no expert and I didn't know what the effect of what I was doing would be until after the fact.  My main concern there was getting them used to a schedule so that they would be disciplined and independent at the right time.  I guess it worked for the sleep as well.
I hope this was helpful.
What are some things you guys did when your kids were young to get them to sleep well and enough?