When going on vacation, everyone wants to meet a situation head-on, consider all the nuances, and take everything with them to feel comfortable in any situation. This is especially critical if you travel with children. But the suitcase is not unlimited, so you have to limit yourself to the most necessary items.
We have compiled a list of must-have things for a vacation with a child. We hope that it will help you not miss anything and take all the essential toddler boy summer clothes or outfits for little girls that you may need on the way and on the spot. Have an easy packing and a pleasant vacation!
Clothing and shoes
The number of children's stuff that you may need to take with you depends on several points: 
the age of the child, 

their habits, 

the place where you go, 

the duration of the trip, 

the ability to wash or buy clothes. 
Some take two or three sets per day, and some have only a few things. Children quickly get their clothes dirty, and it's not always possible to wash them right away, so you need to take things with a reserve. Consider the following list and adjust it following your needs:
pants or shorts (lighter and tighter for the evening or cold day),

sundress, dresses, and skirts,

T-shirts, shirts (with short and long sleeves) — it is better to take some spare pieces in case the child sweats or gets dirty,

a sweater for a cold day or evening, a warm jacket, a windbreaker (you can catch cold weather there),

clothing in case of rainy days: pants and waterproof, umbrella,

several pairs of light and warm socks,

a bucket hat and a cloth cap (they are often lost, so it is better to take some spare ones),

panties (it is better to take plenty of them, especially if the baby is still not fully potty-trained),

pajamas,

swimsuit, swimming trunks,

shoes: sandals, sneakers, beach shoes, rubber boots (try not to take new shoes, they can rub your kid's legs),

an elegant set of clothes if you plan to attend a festive event.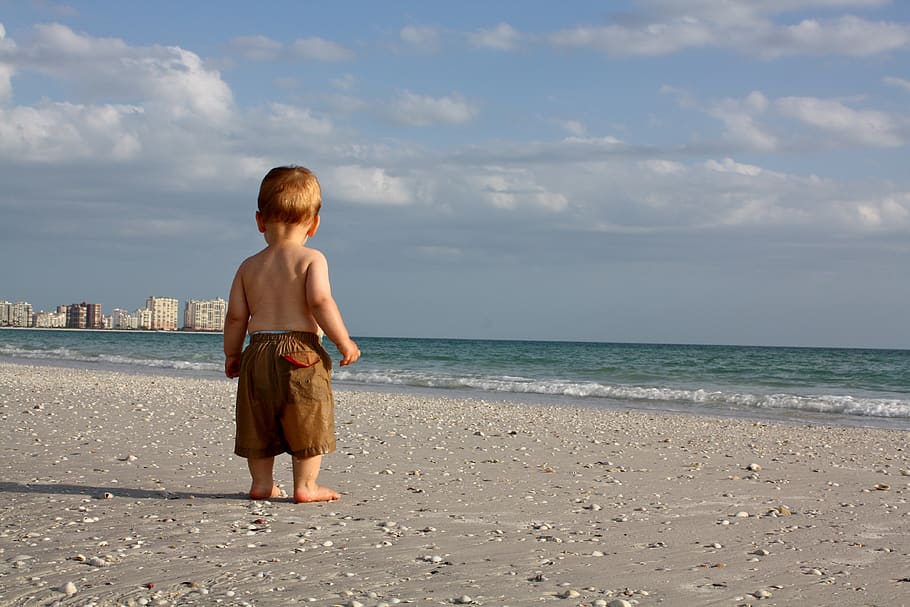 Here is what you should take in hand luggage:
disposable napkins;

several diapers;

a warm sweater, a light hat, you can take a wide scarf or a plaid to cover a child — in plains, it often blows from the air conditioner;

a spare set of clothes in case the child sweats or gets dirty;

toys, notebooks, pencils, and entertainment that will be needed on the plane;

a bottle of water;

snack: cookies, fruits, can of mashed potatoes, etc.
Do not take a lot of toys and valuable things
Younger children are hard to do without toys. The desire to take a favorite doll or a teddy bear with them can be very strong. It is worth remembering that on vacation, children often lose and forget things, so it is better not to take the most favorite toys or too many items. You can choose one or two toys, the loss of which will not turn into a tragedy.