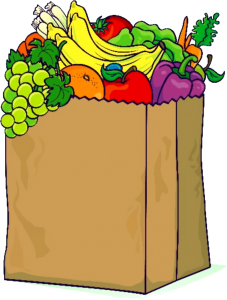 We are all looking for ways to make our dollar stretch further. I shared some ways to save money at the pump a few weeks ago; today we'll look at ways to save even more money but in a different area of your budget. Are you saving all you can on your grocery bill? Do you clip coupons, and shop sales, but still feel like there might be some other ways you could still save? I have some some tips to share that I hope will help you spend less and save more.
1. Have a snack before heading out
You can save money at the grocery store simply by eating, before you go. You are less likely to pick up items that are not on your list, or items you don't need, if you have a full tummy!
2. See if your favorite store price matches
If you go to the grocery (or any other store for that matter) and know that an item is less expensive elsewhere, many store will honor the competitors price. This is fantastic because it saves time and fuel — so just ask!
3. Plan your meals and make a list
Okay —  this tip consists of two things, but they do go hand-in-hand. If you plan your meals in advance you will save later on. Maybe you won't see the savings at the grocery store, but during the week you won't be eating out, or making unnecessary trips to the store — where you'll end up spending even more money. After you plan your meals, if you make a list and stick to it, that will also help you to remain focused on the items you do need — then you be less likely to over spend.
4. Buy fruits and vegetables that are in season
We all know that fruits and veggies that are not in season usually cost a lot more and often times, they don't taste as good as when they are in season. If you want something that isn't in season, buying it in the freezer section is the next best option.
5. Buy in bulk — but be sure to compare prices
Sometimes buying in bulk can save you money. We actually buy pasta, rice, and spices in bulk and we save a lot of money this way. If you buy at the big club stores like Costco or Sam's Club, be sure to compare what you are getting there with what you find at your regular store. Often times you can save money but sometimes, it can actually cost you more. Another thing you should always do is to look at the price per unit on the grocery self. This lets you know if buying the bigger bag is really the best deal. It also helps you compare prices between different brands. When buying meat you want to compare price per serving and not price per pound.
6. Go meatless a couple of times a week
If you can make a couple of meatless dishes during the week, that can help save money too. Need some yummy ideas? Delicious Vegetarian Recipes
7. Say no to drugs
Of course you should, but I'm talking drugstore items. Many times over the counter drugs, cosmetics, shampoos, etc. are more expensive at the grocery store; so do your research before buying those items.
8. Cut out soda and cut back on juice
For kids, you can water down their juice – which is better for them anyway – and it makes the juice last twice as long. Cutting back or cutting out soda is good for your budget and your health. Drink more water and if that bores you to death — put a lemon or cucumber slice in it for a tasty addition.
9. Do it yourself
Instead of buying grated cheese, sliced and peeled carrots, cookies, muffins, etc.  – if you have the time – do it yourself. It can save a lot of money in the long run.
10. Buy store brands
Store brands have come a long way. Many of them are just as good as some of the higher priced name brand products BUT some are not so proceed with caution. It's worth a try though because you can save quite a bit if you do end up switching.
How do you save on groceries?