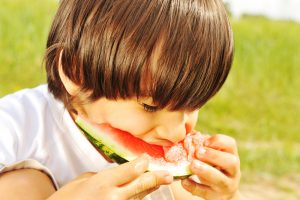 From buying fresh fruits and veggies to budgeting for co-payments, keeping our kids healthy and happy can be pricier than we'd expect. Fortunately, you can help boost your child's health and wellness without breaking the bank. Here are some tips you can use to improve your child's health without shelling out a lot of money.
1. Avoid Buying Sports Drinks
Although sports drinks are very popular these days, they're not good for children at all. Some sports drinks are worse for kids than others and do serious harm that can result in medical problems in the future. Rather than getting your kids the Monster or Red Bull they want, get them low-sugar fruit juice instead.
Energy drinks like Monster, Rockstar, and Red Bull cause twice as much enamel loss as other popular drinks like Propel, Powerade, and Gatorade (3.1% to 1.5%). Not only is it more affordable to cut out these unhealthy drinks, but it's also better for kids to drink cold water after exercise or physical activity.
2. Focus on Filling Foods
Growing children can eat a lot, and a big part of your budget is likely going towards sufficiently feeding your kids. The thing is, if you're not buying the right food, you're going to spend more money because your children are going to be hungry more often and, as a result, eat a lot more than they would to get the sufficient calories their growing bodies need.
For this reason, it makes a lot of sense to buy snacks and food that are filling and satisfying instead of food that won't keep them full. For example, packets of chips are far less filling than string cheese and nuts, making them a poor choice for a snack. Opt for snacks that are great sources of protein.
3. Bring Your Kids to Walk the Dog
Children need to be active to be healthy and regularly going for a walk is a good way to avoid being sedentary. Up to 67% of American households own a pet, and taking your dog for a walk could be a great way to get your child out of the house and move around. What's more, your child will get out all their extra energy, which can help to improve their mood and their overall well-being.
4. Opt for Daily Vitamins
Even the most well-planned meal can sometimes fail to give kids all the vitamins and minerals they need to be healthy and happy. Vitamins are essential for a healthy body. For example, vitamin B12 helps form red blood cells and even supports brain function. Just this one vitamin can improve your child's health, and making sure they also get enough of other vitamins like vitamin C and zinc can make a difference. If you're looking to boost your child's health, consider affordable daily vitamins your child can take to help boost their health.
Your kids are your most important priority, and with the advice shared here, you will be better equipped to ensure their health. Even if you're on a tight budget, you can still ensure their (and your own) good health with some careful planning.