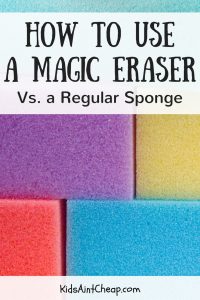 During the first week in our recently purchased house, every retailer within a 10-mile radius sent us a flier. "Come buy our house paint!" "Here's a coupon for decor!" It went on and on. My highlight during that entire debacle was the box of freebie house supplies that showed up one day. In it was a Swiffer duster, a Febreeze-scented Glad trash bag, and a Mr. Clean Extra Durable Magic Eraser. I had no idea how to use a Magic Eraser properly, so I got to work on figuring it out.
As a result, I became a scientist in my own home. Each room was my lab. If you've never used a Mr. Clean Magic Eraser, click here for a rundown and to see the product.
The basic idea behind the product is to wipe away hard to erase stains, marks, and smudges. You simply apply water and get scrubbing.
How to Use a Magic Eraser in Your Home
Here is a quick list of my findings when I used the extra durable Magic Eraser. To set the scene, this was a house that had been empty for a long period of time and was now filled with a family with toddlers.
How It Worked
Below are the following scenarios in which my Magic Eraser performed successfully.
It:
Easily removed dried marker on an old marker board.
Thoroughly removed fingerprints and dirt marks around door handles.
Removed pencil markings off walls (I can't blame this one on the kids. I was marking an area where I wished to hang some decor. The eraser I used to remove the light pencil marks turned them dark and cloudy. I nearly swallowed my own tongue until I remembered my Magic Eraser. Poof. They were gone.
Polished my car's headlights.
Removed black shoe marks from the side of my oven (high traffic area).
Easily wiped away grime from light switches.
Brightened up our dirty laundry hamper. This is a white, plastic hamper that has endured years of handling and tossing around – and looked it. I was pretty surprised how easy it shined back up for me once I used my Magic Eraser.
Removed paint from wood laminate flooring. Again, I can't blame my kids. I was painting our trim and needed to remove some paint drips that escaped past our drop cloth. The Magic Eraser did the trick.
Erased my kids' crayon artwork all over the refrigerator, kitchen floor, and walls.
How It Didn't Work
There were a few times I experimented with how to use a Magic Eraser and showed negative results.
Polishing glass or mirrors. When I used my Magic Eraser, it left pretty solid streaks on both.
Cleaning stainless steel. My kids leave their tiny fingerprints on our stainless steel dishwasher when they're playing in the kitchen. I tried wiping it down with my Magic Eraser before anything else and it just made the smudges worse.
Scrubbing ink out of a couch. This is ink that settled and dried into the fabric weeks ago, but I thought I'd try to remove it this time with my Magic Eraser. No such luck.
Removing water spots from faucets and the tea kettle. Again, no dice.
What if I don't like the chemicals used in a Magic Eraser?
Some concerns have been risen about the chemicals used in developing the Magic Eraser, namely formaldehyde. This was deemed safe once it fused with the melamine, much like sodium by itself is explosive, but sodium chloride is salt.
If, however, you do want a natural remedy, I highly recommend checking out a Norwex microfiber cloth. I have one that replaces so many of the chemicals I previously used and believe it's totally worth the investment.
Hopefully this article helped you understand how to use a Magic Eraser.. I'm sure my findings aren't conclusive for every hearth and home, but if my experiments and findings help you get a jump start, then I'm glad.
For other Kids Ain't Cheap product reviews, click here.
For more help cleaning things around the house check out these great articles.
Cleaning Poop and Other Jobs Your Kid Can Do This Summer to Earn Money
How To Effectivly Clean Your House In an Hour
Making Spring Cleaning Kid Safe by Making Your Own Cleaning Supplies
What's your go-to cleaning routine for tough stains? Share in the comments below!
This post contains affiliate links.
Image Credit: Gracey (MorgueFile)