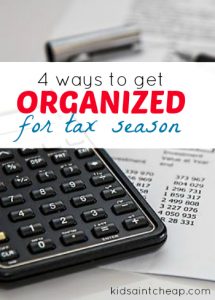 This post is part of the TaxACT #BeatTheDeadline blog tour which shares tips on how to make tax time a smooth and easy process before the April 15 deadline. TaxACT provides the tools and guidance to help you confidently file taxes easy and fast. Do your own taxes today at TaxACT. You got this.
The tax deadline is quickly approaching and we all know that gathering up tax documents is half of the process when it comes to filing an income tax return.
Whether you've already filed your taxes or are still putting it off I want to show you a few different ways you can get (and stay) organized for tax season. Trust me, it will make filing so much easier.
Use an Expanding Folder or File Folder System
I've used an expanding folder for keeping my bills organized for years. It's also an amazing way to keep your tax documents organized.
With expanding folders you can generally put tabs at the top of each section. This makes a great and super easy way to keep ahold of all of your tax documents.
You can make one section for income, another for expenses, and a third for investment documents, just to name a few. Since these sections expand so well they're also perfect to hold the prior year's tax returns.
If you're not into the expanding folder another option is to just use regular file folders. You can keep all of your tax information in one folder or break it down by type.
Use an Income Tax Binder
Aside from the expanding folders I also have a thing for binders. Binders are an easily customizable way to stay completely organized.
To get started purchase a binder and tabs and then create sections for your individual tax situation. When documents come in just grab a hole punch and place them in the binder.
Go (Mostly) Digital
If you hate the idea of hanging onto a bunch of physical copies of your documents then consider going digital. You can scan your items into your computer and organize them in a folder on your desktop. This works especially well if you have a ton of receipts you're keeping track of.
Just be sure to backup all of your data. You don't want to lose everything you have in the event of a computer crash.
Use a Spreadsheet
In addition to using expanding folders and binders I also like to keep track of my income and expenses on a spreadsheet.
I record any applicable expenses all year long as well as all 1099 income. At the end of the year I know exactly who I should receive 1099's from and how much they should be.
You can also create a spreadsheet to keep track of what tax documents you'll be receiving and then check them off as they come. By doing this you won't accidentally file your taxes before you have everything you need to report.
Get Organized, It Makes Taxes Easier!
Once you're organized filing your taxes is easy.
If you still haven't filed your taxes this year don't worry, you still have time. Use the next couple of days to come up with an organizational system that works best for you and then get to filing.
If you can keep your system up all year long you'll see how much time and stress you can save when tax season rolls around again.
Beating the tax deadline doesn't have to be stressful. With TaxACT, everything you need to confidently prepare and e-file your taxes is right at your fingertips. You got this. File your simple or complex federal return FREE today with TaxACT Free Edition.