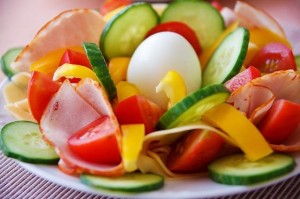 The imagination, curiosity, and innocence of young children is captivating. They're sweet and inquisitive yet stubborn and determined. Being a parent to a young child is one of the most challenging, yet rewarding jobs in the world.
And as a parent you want to make sure that your kids stay healthy. That's why you need to start structuring routines that encourage good nutrition and exercise at a young age.
Here are five tips to get you started.
Be Generous with Fruits and Veggies
If you start feeding your children a generous amount of nutritious food at a young age they'll be much more likely to stick with those habits.
Right now my kids enjoy eating lots of fruits and vegetables. They actually think eating salad is a treat!
If your kids are reluctant to eat their veggies get creative. Make faces out of carrots and peppers. Or cut up some veggies and let them use a veggie dip.
Get Flu Shots for the Family
Young kids don't have fully developed immune systems. Without vaccinations you'll find that you're constantly battling some type of cold or flu.
In fact I've found with my kids that a cold or flu can be passed around the family for more than a month. Every time someone gets better another family member gets sick and it creates a vicious cycle.
You can eliminate much of this and protect your little ones from the flu by getting the entire family flu shots.
Get a Good Multivitamin
Your kids are growing like crazy. And since so much development is happening in those earlier years it's important that your children are getting all the vitamins and minerals they need.
Getting a good multivitamin from a place like Chemmart Pharmacy can help your kids stay and feel healthy.
Encourage Plenty of Activity
We're in a different world than we grew up in. Instead of kids playing outside they're playing on Mom or Dad's smart phone or tablet at super young ages. Physical activity isn't as prevalent as it used to be.
Make sure your little one stays active. Take the gadgets away and go play outside.
Teach Good Hygiene Habits
Young kids are germ magnets. Most don't care about getting dirty and consequently don't care about getting clean. That's why it's important to start teaching good hygiene habits at early on in life.
But sometimes you need to get creative.
For instance, when I ask my youngest to brush her teeth you would think that I was trying to pull one of her teeth. In order to get her to practice good dental hygiene we've created a song to sing. As long as someone is singing the song she's more than happy to brush her teeth. Nothing else works.
All kids are different. So while teaching basic hygiene is important sometimes it's necessary to develop your teaching to the individual needs of the child.
Conclusion
Start implementing healthy routines while your kids are still young. What you teach them now is likely to stick with them for life!