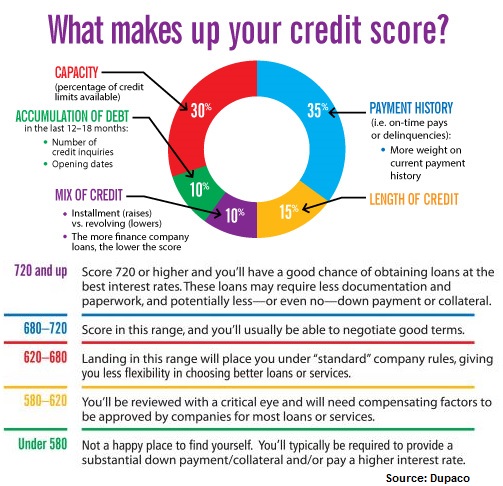 Credit scores have gotten more attention this week thanks to the news of a data breach at Equifax potentially impacting about 44% of the U.S. population. To rein in the damage from this incident, Equifax is offering a free notification service that is essentially a complimentary credit monitoring tool.
With such services otherwise costing about $10 monthly, the benefits of signing up for Equifax's notifications far outweigh any of the drawbacks.
(The only drawback is something buried in the fine print: by enrolling release Equifax from liability, meaning you waive the right to participate in any class action lawsuits that might be coming. However, when you compare the typical payout in a suits of this size — it ends up being tiny, assunming the plaintiffs win — with the value of the free credit monitoring — it normallly sells for $10 a month — well, you get potentialy comparable fvalue faster and with more certainty by enrolling in notifications than waiting years for a lawsuit to reach completion.)
Here are the actions taken after the breach. And if you need more convincing before doing so — since the here are a few reasons why you should care about your credit score.
1. Get Better Insurance
You may not know this, but insurance companies rely on your credit rating to help determine how much your premiums will be. This is very common for auto insurance. If you're a young person, you know that you'll already be at a disadvantage because your insurance rates will be higher.
With a good credit score, you may be able to cut that monthly cost down. Also, your credit can come in handy when getting homeowner's insurance. According to a 2014 WalletHub study, someone with fair credit pays 29% more for homeowner's insurance than someone with excellent credit.
2. Get Hired
When I heard that some employers run a credit check on candidates before hiring them, I couldn't believe it. Personally, I'm not in a job field that does this but I know some people who are. I heard of a woman being denied a promotion at her job because her credit was so bad.
Why does credit play a role at your workplace? It allows some employers to witness your reputation with handling money first hand. A credit check can assess your trustworthiness or even expose any theft or embezzlement history that the employer would want to avoid.
3. Get a Better Mortgage
Probably one of the most important reasons to care about your credit and maintain a good score is so you can receive a low interest rate if you take out a mortgage.
If you're looking to buy a house and can't afford to pay for it in cash. You'll need a mortgage. A mortgage is probably the only type of debt I'm willing to take on because homes are so expensive and it's a huge purchase.
If you don't have any credit or a have a low credit score, you can expect to pay a higher interest rate on your mortgage. This is something that shouldn't be taken lightly either. A higher interest rate on a 15 to 30-year mortgage can cost you tens of thousands of dollars over the life of your loan.
4. Pay Lower Interest Rates
This is where credit naysayers would object, but with a good credit score, it becomes easier to score the best interest rates on everything from credit cards, personal loans, etc.
This doesn't mean you should run off and borrow a bunch of money you can't afford to pay back. It does, however, mean that when you need to take advantage of the perks of having good credit, you can.
It's definitely better to have a fully funded emergency fund than to rely on a loan to cover unexpected expenses, but if you're ever low on options and need more money than you have for a one-time emergency, being able to score a low or even 0% interest rate can be very helpful. In the case that you need a new car but can't afford to pay for one in cash, you can use your good credit to score a low interest rate.
5. Earn More Rewards
This is one of my favorite perks of caring enough about my credit to maintain a high credit score. Earning credit card rewards isn't for everyone, but it's a great way to save money on everyday expenses and even afford expensive travel opportunities.
My husband and I used credit cards rewards to spend a week in the Caribbean for our honeymoon for next to nothing. We also went to Disney World this year and scored a discounted hotel stay and a free flight for my son thanks to credit card rewards. If you're going to use a credit card to earn rewards, make sure you pay off all your balances in full each month.
Earning rewards isn't worth getting into debt and if you carry a balance on your card will just cancel out the benefits.
6. Help Your Kids
A final reason why you should care about your credit is because your kids or loved ones may need your help. If you have kids, when they get older, they may need a cosigner for their student loans or a car loan for example.
I never had anyone in my family who could cosign for me when I was trying to build my credit so I always got stuck with a ridiculously high interest rate in the beginning stages.
Pay More Attention to Your Credit Score
If you care about any of these things, you should probably care about your credit score to some degree. It's not the most important part of your financial profile, but it does make a difference and can even help you save money sometimes. Just be careful not to go overboard when it comes to overspending and realize that you don't need to get deep into debt to build your credit.
Jackie Cohen is an award winning financial journalist turned turned financial advisor obsessed with climate change risk, data and business. Jackie holds a B.A. Degree from Macalester College and an M.A. in English from Claremont Graduate University.