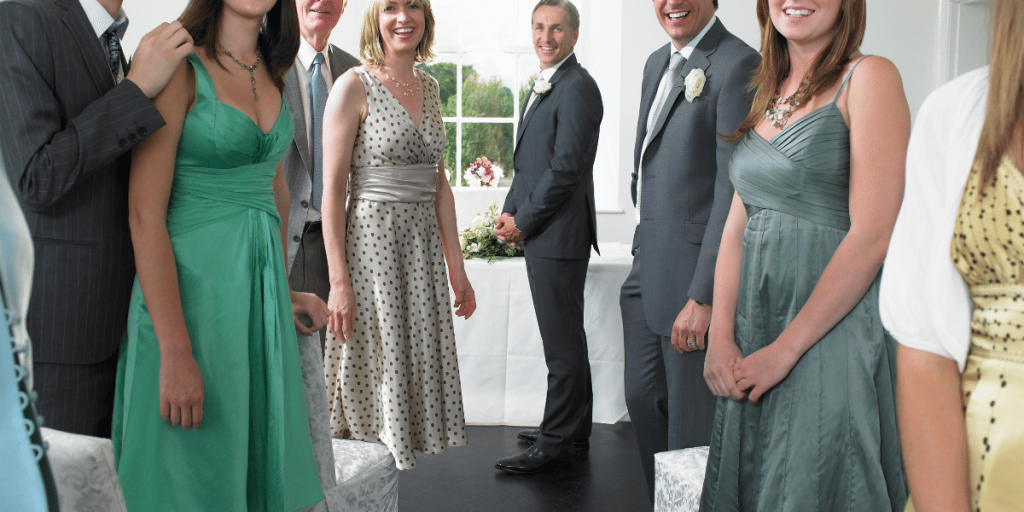 Summer is a popular time for weddings to happen. It's easier to have something outdoors and many people can travel with vacation time. It's also nice to get married at a sunny and happy time of year. If you are receiving wedding invitations, you may have noticed some dress code lingo. "Black Tie Optional" or "Semi-formal" can be very confusing for anyone. Today I am sharing with you my knowledge of the wedding dress code.
The White Tie Event
White tie is the most formal event that there can be. Many people can see it first-hand by watching a White House State dinner. Women are to wear formal floor length gowns. An elegant clutch, jewelry, and high heels are a must. Any color is acceptable, except white.
Men must wear a tuxedo with tails and a formal white shirt. A vest, not cummerbund, and bow tie are to be white. Gloves, cufflinks, and studs should also be white. Formal black patent leather shoes or oxfords are appropriate.
Black-Tie Event
This dress code is for an evening event. Ladies have more flexibility. A dressy pants suit, cocktail dress, or floor length gowns are acceptable. Footwear can be heels of any size or dressy flats.
Men are to wear a tuxedo, without tails. They can choose between vest or cummerbund with a bow tie. Patent leather shoes, cufflinks, and studs are to be black. In the summer, a white tuxedo jacket with black tuxedo pants are acceptable.
Formal Or Black-Tie Optional
This is a little less formal than a black-tie event. Ladies are to follow the guidelines of the black-tie event. There is no difference for her because black-tie optional applies to the men. Men have more choice between a tuxedo or dark suit. A white shirt and conservative tie is acceptable rather than the black bow tie.
Semi-Formal or Dressy Casual
This is a relaxed dress code that many weddings opt for. A general rule of thumb is to wear light colors during the day and dark at night. Women can choose between a dressy pantsuit, skirt and top, or a cocktail dress. Heels, wedges, and dressy flats are acceptable. Ladies are not to wear a formal floor length gown.
Men choose a suit and tie. Light for daytime, dark for nighttime.
Festive Attire
This is the most confusing dress code of all. Guests are welcome to be playful with their attire. Ladies are to wear a party dress or a cocktail dress. They are to wear bold colors and unique styles. Men wear a suit with a bright-colored tie and socks.
Casual Dress
Casual dress is a laid-back dress code reserved for beach and outdoor weddings. Ladies are to wear a sundress paired with wedges or dressy sandals. Men should wear khakis or dress pants. A collared shirt, with or without a tie, is appropriate. Jeans, sneakers, and tee-shirts are not appropriate.
Read More:
How To Have An Eco-Friendly Wedding
3 Ideas For Cutting Wedding Costs