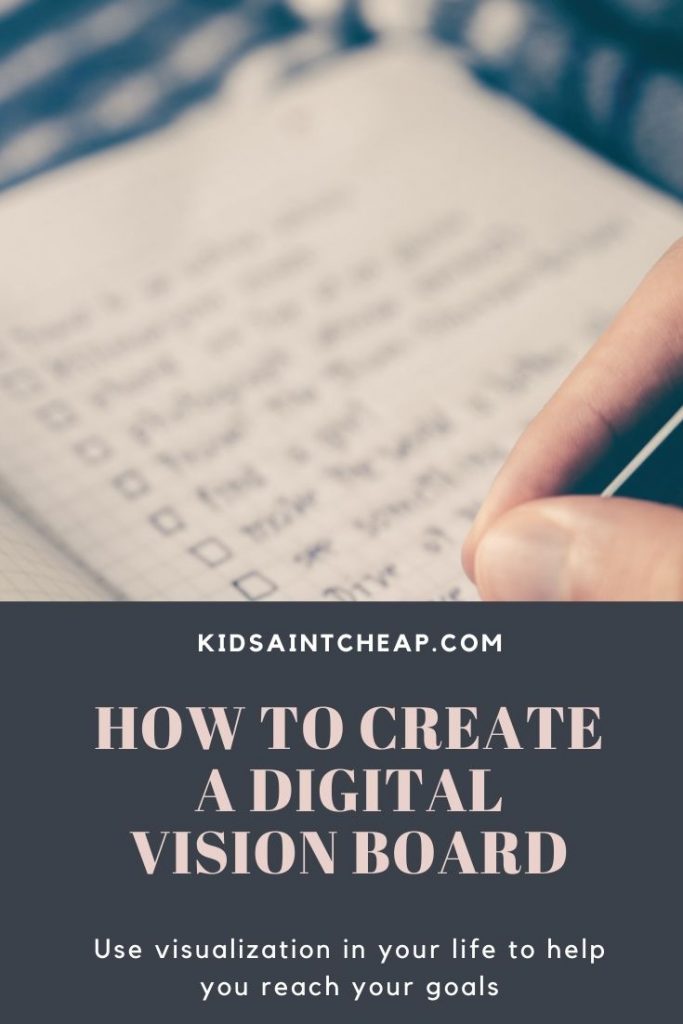 Have you set goals for yourself?  Would you like to utilize a strategy to make those goals reality more quickly?  If so, a vision board may be just what you need.  Since most Americans are on their electronics most of the day, a digital vision board may be even more helpful.
How to Create a Digital Vision Board
Creating a digital vision board should only take an hour or two, but its impact should influence you for the rest of the year.
Determine Your Goals
The first step is to determine your goals.  What do you want to accomplish over the next 12 months?  What is working successfully in your life that you want to maintain?  What inspires you?
Make a list of seven to ten goals and items in your life that you want to maintain.
Then, it's time for the fun—actually choosing the images for your vision board.
Choose Your Digital Vision Board Images
The next step is to find images that best visualize what you want to achieve in your life.  For instance, if you want to graduate from college, you may have an image of a woman in a cap and gown posing with her children.  If you want to cook at home more, you may have a picture of a luscious homemade meal or a woman cooking.
Pick at least one picture for each of your goals, though you can pick more if you'd like.
In addition, you may want to add in a few inspiring quotes to keep you motivated throughout the year.
Where to Find Images
When you're looking for images, the best place to start is Pinterest.  Because there are so many pictures there, you can really find one that speaks to you and is unique to your own goals.  You can also find motivational quotes here.
While you'll likely find all that you need on Pinterest, if you don't, you can go to a place like Unsplash and find images there.
Remember, you can also use your own personal photos.  If one goal is, "take a family vacation," use a picture of the family on your last vacation as motivation.
How to Put the Digital Vision Board Together
Finally, to put the digital vision board together, go to Canva.  (It's free!).  Once you're in Canva, click on "Create a Design" and choose "Desktop Wallpaper."
Next, upload all of the photos and quotes that you have chosen.
Click on "Elements" in the side bar and type in "grid."  Then choose the grid pattern you would like and starting arranging your pictures.
Final Thoughts
For years, athletes have used visualization to help them perform better.  When you visualize something repeatedly, you're more likely to achieve that goal.
By placing a digital vision board somewhere you will see it repeatedly throughout the day, say on your desktop, you're subconsciously reinforcing the vision of your future and your likelihood of making that vision a reality.
Read More
Squeezing the Last Drops Out of Your Child's Summer Vacation,
Saving Money While Traveling with Children,