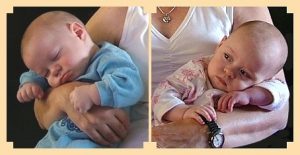 Having twins is wonderful but it is also pretty expensive!  Well,  having children is expensive but when you are blessed with two or more babies at one time, things add up really fast. The good news is there are several companies who understand this and are willing to give parents of twins and higher order multiples a break. Some companies will send you freebies or really great coupons. Be aware that in some cases, you will be asked to provide the babies' birth certificates, to prove that you do have multiples.
Here is a list of discounts parents of multiples can receive and for even more money saving tips check out my post on tips for buying for twins. I will do my best to update this list from time to time but you will definitely want to check with each of these companies to make sure they are still offering their multiple birth programs, discounts or freebies. If you know of a multiple birth program that is not listed, please let me know I'd love to add it! 🙂
American Baby Magazine
(possible) Free 1yr Subscription
When I called I was told that you just need to enter your name, due date and number of children and when they see you are expecting multiples you will get the discount. I don't know for sure if this works but it's worth a try and if it doesn't automatically apply the discount I would call customer service 1-800-678-1208
Please let me know if you do try it and whether it works or not. Thanks!
Babies R Us
10% discount to parents of multiples (in-store)
This discount applies when buying two or more large items such as, furniture, high chairs, swings, pack-n-plays, strollers (I am told this also applies to a double stroller), etc. Be sure to ask before making your purchase since these discounts can change at any time.
Baby Depot
(part of Burlington Coat Factory)
20% discount on anything in the baby department when you buy two or more identical items.
This could be a substantial savings, especially if you are buying furniture. Be sure to ask in your local store about the discount because discounts can change and possibly vary by region.
OshKosh and Stride Rite
Provides discounts for parents of twins, as do many other national retailers.