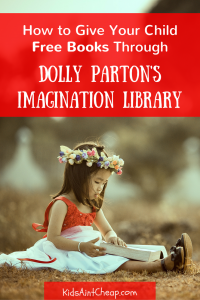 Did you enjoy watching Reading Rainbow as a kid? Turns out, the popular educational show was much more than children's entertainment; it was a movement. For 20+ years, the show did its best to inspire children of all ages and walks of life to pick up a book and read. Dolly Parton's Imagination Library picked up the same torch to inspire young readers all across the world.
How important is it for children to read?
We've all heard the saying that "leaders are readers," but the importance of literacy goes much deeper than that. According to a study by the US Department of Education, 32 million adults in America can't read. Another study shows that two out of every three students who don't proficiently by 4th grade could end up on government assistance or in jail.
Statistics like that drove people like Levar Burton and Dolly Parton to make a change. With Reading Rainbow, kids learned from books read and discussed on TV. In Dolly Parton's Imagination Library, new books show up right on your doorstep.
What is Dolly Parton's Imagination Library?
In 1995, Dolly Parton cast a vision to grow children's love for reading in her home state of Tennessee. Regardless of their family's income, Parton sees to it that every child receives a quality, age-appropriate book to read every month.
Over 20 years later, more than 80 million books reached young readers in the United States, Canada, and the United Kingdom.
Author's Note: I recently went through the sign-up process and discovered that my region is not currently eligible. Upon further research, I discovered that organizations partner with Parton's foundation to fund the expense for books in their specific regions. Therefore, be aware that not all locations qualify.
What Dolly Parton's Imagination Library Could Mean for Your Family
In an age when children are parked in front of screens for up to 11 hours a day, a resource like this may tip the scale on that balance. Imagine a new book showing up in the mail for you to read each month.
Recommended Reading: 7 Screen-Free Activities for Preschoolers
If this is an initiative you'd like to support or you'd like to sign your child up today, check out Dolly Parton's Imagination Library for instructions on how to donate.
Other Ways to Save Money On Children's Books and Promote Reading In Your Home
If your region isn't eligible, don't give up. Here are some more money-saving options for your young reader:
Weekly storytime at your local library
Reading contests at school or the library
PaperBackSwap.com – Trade your books with other members for a small trading fee.
Book swap parties – Invite some other parents to your home and ask them to bring any children's (or other genres of) books they'd be interested in swapping. Lay them all out on a table, draw numbers, and take turns picking from the "new inventory." Get your kids involved, too!
Consignment sales – Books are often sold for $1 or less.
Garage sales
Audiobooks – You can check these out for free at the library. They include a book for children to use as they listen along.
For more on reading for your kids, or reading to your kids, check out these great articles.
The Importance of Reading to Your Child
A Fun and Economical Way to Get Kids Interested in Reading: Comic Books
Here are 8 of the Best Kids Books On Audible
What were some of your favorite books to read as a child? Tell us in the comments below!