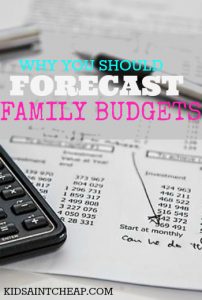 Most people I know budget monthly. I don't do this. I like to have a forecasted budget at least six months in advance. With a family to care for, I feel it is especially important to budget beyond the standard one month window.
Forecasting a Family Budget
Kids have various needs. For example, I already know at the end of the summer we will be enrolling our daughter into dance class, if I waited until July to figure these how we'll pay for this we might not be able to do it, I wouldn't know until the time came. With a forecasted budget, I can input the classes into the budget and start making arrangements, months in advance.
You don't have to have a set income to budget beyond a month. Both mine and my husband's income varies each month but that doesn't matter because regardless of how we budget we always budget worst case in terms of income and opt to use any overage for savings goals or debt repayment.
For us our daycare costs are also variable. We only pay for the days that she is actually there rather than a flat monthly rate. I know this is more unusual than most, but given the variability I need to be able to see how the difference in days affects us month to month. When our babysitter takes two weeks off in the summer, I need to figure out how to best allocate those funds. Our daycare costs can vary as much as $300 a month and I like to know before the month actually happens how the monies will be dispersed.
While some people may choose to budget these variable expenses differently, maybe but putting a set amount into an account each month for said random events, I prefer to budget the exact amount within our given monthly funds.
I also like that if I budget one amount but it ends up being more or less how that affects the line, months in advance. While spending $50 extra here and there might even out for the month, six months of doing so may leave you a few hundred short. With this in mind I can either decide to keep expenses the same or it gives me time to make more money.
When I input our family trip into our budget, along with other savings targets we set, I could see we were short a little but not until August. This gives me six months of budgeting to make up this difference and balance it. It also gives me time to look more closely at our current budget, maybe I should cut down the budgeted amount for Mother's day and Father's day to make up the difference or maybe I should pick up a few more shifts at work.
Financial security is so important when you have a family to care for and having a family to care for usually means your budget has the potential to be more erratic and you'll need some flexibility. Budgeting in the future gives you much more flexibility than month-to-month.
How do you budget for your family?
Catherine is a first time momma to a rambunctious toddler. When she isn't soaking up all that motherhood has to offer, you can find her blogging over at Plunged in Debt where she chronicles her and her husbands journey out of debt. You can also follow her on Twitter.