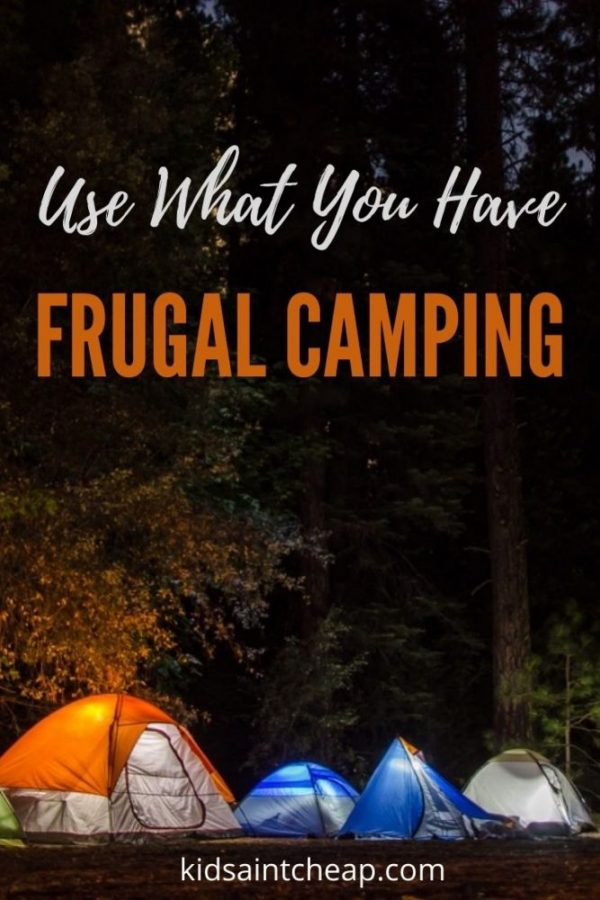 Some of the best memories of my childhood are when my parents, brother, and I would drive a few hours north and spend about four days camping with our extended family. I have over 30 cousins, so there was plenty of fun to be had. We went swimming, scared each other at night, and even saw a bear roaming the campsite one night. Taking a camping trip can be a frugal way to have a summer vacation and get away from all the stresses of modern life.
Camping Basics
Camping is something that can be as simple or as elaborate as you want. Planning a weekend camping trip with your family should definitely be kept simple. Don't overcomplicate things when kids are involved.
When I talk to my non-camping friends, a lot of them are turned off by the volume of stuff required to do it. However, camping doesn't have to be that way. By opting to stay at an established campground for a small fee (versus trekking into the woods yourself and popping a tent),  you'll save a lot on both things you need and time.
Campgrounds offer bathrooms, water, and, when needed, electricity. It is 2021 after all, and most of us have a device or two that needs a recharge. Some larger campgrounds even have extra amenities like laundry, playgrounds, and pools which, when you have kids, can be a blessing.
What You Need to Buy
To plan your weekend away, you don't need much. If you don't already have access to one, you really only need to acquire a tent, possibly a tarp if you think you may need coverage for your site, and a cooler for your food.
You don't really need sleeping bags or air mattresses; just layer a bunch of blankets and pillows on the bottom. Even though they can be nice, you don't really need things like camping stoves. However, we do use our camping stove a lot when we camp. Yet we could manage just fine with a decent fire, a cast-iron skillet, and tin foil to cook all of our food.
Frugal Camping: Use What You Have
You can get away with using a lot of things you already have, which is what makes camping such an easy thing to do. Blankets, pillows, utensils, and cooking the food you already bought make camping a cheap option for family fun.
When we camp as a family, we bring food from home that's easy to cook over a simple flame (you'd be amazed what you can create in a tin foil package) or bring food that's prepped ahead and warmed up (think stew or chili). We usually replace our ice daily, and if we don't have firewood from home, we buy it from the campground. (Another bonus to staying on the ground.)
Camping Brings Us Back to Basics
What I love about camping is the simplicity and, at the same time, the complexity of it all. We cook all of our food and then spend time washing and drying our dishes for the next meal since we don't have access to a dishwasher and only have access to enough dishes for one meal at a time. Camping helps keep us grounded.
Final Thoughts
Camping is a great way to seriously relax. Yes, I bring my cell phone but I really only use it for picture taking and emergency calls. Social media is turned off- it's almost sacrilegious to do in the wilderness. It is a great way to really connect with friends and family lazing around on a sunny afternoon or catching up while roasting marshmallows at night. (Again save the fancy metal roasting sticks and use a legit branch; the dirt won't kill you!)
Do you camp with your family? How do you keep it simple?
Read More
How to Survive Camping with Young Children
A Frugal Life: How to Drastically Cut Expenses and Improve Your Finances
Melissa is a writer and virtual assistant. She earned her Master's from Southern Illinois University, and her Bachelor's in English from the University of Michigan. When she's not working, you can find her homeschooling her kids, reading a good book, or cooking. She resides in Arizona where she dislikes the summer heat but loves the natural beauty of the area.