Your kids are probably getting excited at the thought of all the trick or treating candy, but they are probably planning their costume, too. Costumes can get expensive with some as high as $100. That's a lot of money for some families to spend on something your child will likely wear just once and then outgrow. But don't worry. There are a number of great frugal Halloween ideas that will keep your kids happy without spending the money you are saving for Christmas.
Get Creative With a Homemade Costume
Many mid-size to larger cities have specialty Halloween stores that sell costumes that can be quite pricey. Save your money and get creative. Many costume ideas cost less, but will take some artistic skill. One of my favorites is the Lego costume made from cardboard. In fact, you can make a lot of costumes using cardboard boxes.
Trim the box edge, wrap it in old Christmas paper and add a bow and you have a Christmas gift. Look around your house for old crafting materials. Pinterest has a wealth of ideas. And in staying with the box theme, they have an adorable UPS costume!
Homemade costumes have an added bonus – your kids will have a one-of-a-kind outfit and stand out among the Spidermans, Batmans, and Incredibles.
A side note: Going to the Halloween store and buying a Halloween costume on clearance is probably not a good idea. Kids grow so fast it may not fit next year and you are stuck with a 2018 trendy costume they can't wear.
Halloween Decorating on a Dime — What About a Halloween Tree?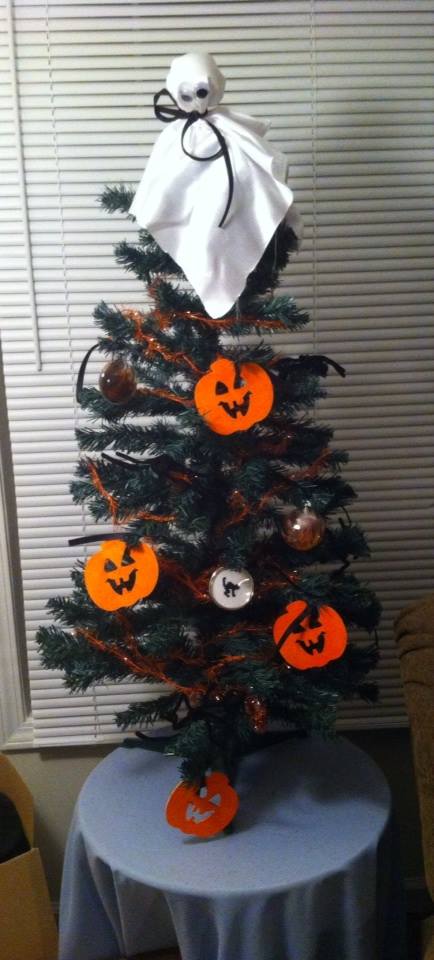 Fall and Halloween decorating rival Christmas. You can craft some cute decorations (again I refer you to Pinterest) but what about a Halloween tree? This is something I actually did a few years ago. I purchased some orange paint and pumpkin form for less than $10 at Michaels and painted them. I also took some clear Christmas balls and filled them with orange glitter.
For the tree topper, I took some white material I had left over. I draped it over a foam ball, clinched it at the neck with a ribbon and added some eyes. Voila! I had a ghost tree topper. You can add some clear lights to give it some pizzazz!
But It's All About the Candy
The saying "you have to spend money to make money" also applies to Halloween. Your kids will be coming home with a ton of candy on Oct. 31, but you need to be prepared with treats of your own to hand out or send to school for Halloween parties.
Busy parents don't have time to scour all of the sale ads so I use Flipp. It has all of the ads in one place and I can use their search engine to look for what I want. You can also check your coupon and discount sites for other deals.
Whether you trick-or-treat, trunk-or-treat, or just have a fun party, you don't have to take out a loan to celebrate Halloween. What are some of your ideas for a spooky good time?
Read More
Stocking Up on Candy for Halloween
Halloween Safety Tips
5 Fun and Affordable Fall Vacations