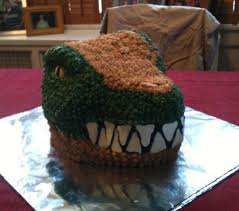 My oldest son turns 5 tomorrow!  I can't believe it's been 5 years since we went into the hospital to have our first baby.  What a crazy whirlwind it has been since then.  I am so grateful and proud of my two little boys.  As with any parent, I have my moments of aggravation but the truth is, my boys are wonderful.  The problems we may run across day to day are normal an minor.  They are very sweet, very well behaved and I love them very much.  They have enriched my life far beyond what I could have expected.
Since his birthday is on a Monday, we had is party and celebrated his 5th birthday today.  Our little house was packed full of family and friends.  His favorite thing to eat is pasta so my wife made stuffed shells and her macaroni and cheese.  I got up early, got my smoker/grill fired up and made ribs.  Between that and the food that everyone else bought, everyone stuffed themselves happy.
A dinosaur cake
As I mentioned in my post about our recent trip to the Philly, Harrison Loves Dinosaurs.   He is completely obsessed with them and his favorite is Tyrannosaurus Rex.  It took a lot of effort but my wife made him an amazing T-Rex cake.  Harrison was blown away, as were the rest of us.
He got some really great presents (most of them dinosaur themed) and by the end of the day, him and his brother were exhausted from all the play time and excitement.  I must admit that my wife and I are also exhausted.  Our sparkling clean house is a disaster area after this party but both of us are enjoying some down time on the couch together.  We will will leave the mess until tomorrow.
Have you ever made a theme cake? How did it turn out?