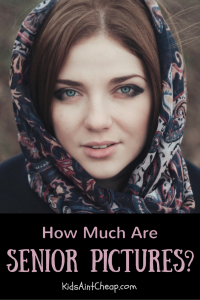 Along with the costs of college, graduation parties, and other high school senior expenses, parents everywhere are asking another question: How much are senior pictures?
That depends on several variables, such as where you live, what type of portrait package you choose and on the type of pricing system the photographer uses. Here are some helpful tips to get the best deal on senior pictures for your high school graduate.
How Much Are Senior Pictures?
The Photographer Element
Professional photographers generally work in one of two ways:
They make their money off of the time spent at the photography session.
They make their money off of the photographs a client purchases.
The first type will charge a higher fee (usually between $500-$1500 depending on where you live) for the portrait session itself; however, the session generally includes all rights to the photos. The client is given a photo book contain proofs of the photos along with a CD or MP3 format of the photos (or online access). They can have pictures printed anywhere they choose.
The second type of photographer will have a lower fee for the portrait session (often varying between $50-$200). One key difference is the photographer retains all rights to the photos until you've purchased a portrait package directly from them. In that case, the printing of the portraits is usually a lot more expensive. The quality of the printed photos will likely be better as well.
Determining Which Photographer is Right for You
There are several steps you can take to determine which photographer is best for your child's senior portrait needs.
Shop Around
It's smart to call several different photographers and get the details on their pricing before making a decision. When shopping around, be sure to ask to see samples of their work and ask if there are references you can call as well. Getting suggestions from the parents of your child's fellow classmates can be helpful too.
Decide How Many Printed Pictures You'll Need
Knowing how many printed pictures you'll need can help you decide which type of photographer to use. If you'll be printing quite a few copies you may want to go with someone who includes rights to pictures as a part of the portrait sitting session.
If you aren't expecting to print many copies of pictures it may be more cost-effective to go with a photographer who prints the pictures themselves and charges a smaller sitting fee. Add up the cost based on the photographer's printing charges before making any decisions.
Discuss Portrait Venues
It's important to discuss with your child and with any potential photographers where you'd like the senior pictures to be taken. Is there a favorite park or other location your child wishes to be photographed at? Do they want to include a family pet in some of the pictures? Some photographers charge an additional fee for including pets or for taking pictures at off-location places such as parks.
Alternatives to Professional Photography
If there's someone in your life who has a knack for photography but isn't a professional, you may benefit from hiring them. They would most likely provide a more affordable rate for a portrait sitting session.
With a bit of research, the question, "How much are senior pictures" no longer has to be a mystery. Instead, it can be a fun and affordable experience for parents and students alike.
How do you save money on professional photography?
Are you a stay-at-home mom? Make sure you bookmark or pin some of these resources for later!