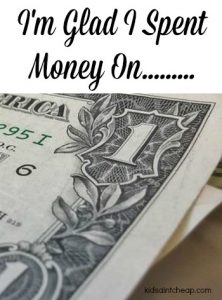 There have been many instances in my life where I kick myself for wasting money. Sometimes it's not really a big deal but there have been times I've wasted hundreds on crap that I either didn't need or wasn't exactly what I was looking for. I'm happy to report though there have been times that my husband and I have spent a few extra dollars on something and it's been well worth it. With a family to look out for we're especially cautious with our money.
Our Mattress
We were sort of fortunate that when our apartment flooded we were given a substantial replacement cheque for certain items, including our bed. The bed that was ruined in the flood was purchased for $100 off a friend. When we were handed a $3,000 cheque to buy all new bed and bedding we were excited. When we went bed shopping we didn't look at price initially but went by feel. Thankfully the bed we fell in love with was on sale and rang in at $1,200. It's worked out very well for us.
After owning it for about three years we noticed some deformation on one side of the mattress but because it was covered under warranty they replaced it zero questions asked. Many years later and we're still happy with the purchase.
Engagement Ring Warranty
I'm so glad I wasn't with my husband when he bought my engagement ring, though I would have talked him out of it, I'm so glad he got the extended warranty on my ring. I think he paid an extra $140 for the lifetime warranty and I have used it at least 10x over this price. The warranty includes all sizings, repairs, scratch removals, lost diamonds, you name it and it's covered. In the last eight years, I have had my ring sized (no joke) probably six times, rhodium plated (redripping in gold to remove scratches) probably 10 times, repaired twice and cleaned a bazillion times. All the work I had done would have cost me at least $1,000 and thankfully I paid zero dollars. It's been a huge help!
Treadmill
About five years ago my husband and I were trying to decide if we wanted to re-join a gym. Instead of joining we decided to save our money and buy a good quality treadmill instead. We looked for sales and in the end found a $3,000 treadmill on sale for less than $1,000. It has worked out very well for us and it gets used regularly, especially in the winter! I was worried it may become a place for clothes to hang but I'm happy to report we use it. Especially with a young child it's nice to have the ability to get some exercise in without being required to leave the house.
I love looking at a purchase and knowing we made a good decision. We work hard for our money so it's nice to see it being used and enjoyed.
What are some of the best purchases your family has made?
Catherine is a first time momma to a rambunctious toddler. When she isn't soaking up all that motherhood has to offer, you can find her blogging over at Plunged in Debt where she chronicles her and her husbands journey out of debt. You can also follow her on Twitter.