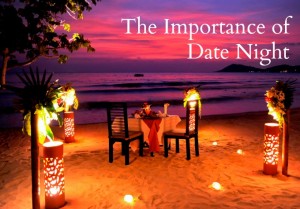 Before I had a child, I never put much thought into date nights with hubby, they always just had a way of happening. They were never fancy but since we didn't have a child to tend to, we had a lot of time for each other. I remember my aunt telling me at my baby shower to make sure I paid attention to myself and my relationship with my husband or it may dwindle away. She was right. Not that the relationship with my husband is going away but it has certainly changed. It is so important that we remind each other what our relationship was like before having kids.
Our daughter is the center of our universe. 99% of our conversations are about her or our family. If the conversations aren't about her, they're about our budget, schedule, work, nothing exciting. Five years ago this wasn't the case. Five years ago we were planning our life and dreams out. We were connecting in different ways. While I expect our relationship to grow and change as it evolves, it's still important to remember, and pay respect to, the foundations that brought us together.
Date Night Doesn't Have to be Expensive
I remember one of our first "fancy" dates. Shortly after we graduated high school, hubby was working his way through university and was getting his first real paycheques. He took me to a nice reservation-only steak house. I was having heart palpitations the whole time, not at the experience but at what I knew it was going to cost him! Though the food and service was great, I simply cannot justify spending hard-earned money in that way (fancy restaurants). When he asked for my honest opinion about the evening I told him, and boy, was he relieved! He wouldn't be going to the poor house to woo me! I was an easy-going girl who wanted time, not monetary filled experiences.
Date nights for a couple with children should be about reconnecting with each other, not spending  money. Here are just a few date night ideas that can be done on the cheap:
Evening picnic with favorite foods/wine (or daytime if it's the only time you can get away!)

A coffee date. Save your money, don't bother on a full meal and enjoy a good cup of coffee/tea/hot beverage and talk about anything and everything but kids.
Walk/hike/bike ride. Getting exercise and being together is an easy way to make sure you're together yet not distracted by cell phones/computers etc.
More marriages end up in divorce than not. I know my husband loves our daughter more than anything but we set time aside for each other. This summer we're taking out first real vacation in a long time and I plan on getting a baby sitter one evening so we can have an evening out. Shhh. Don't tell my husband 😉
It is impossibly easy to fall in love, yet impossibly hard to stay in love. Don't be a statistic, this is your reminder to make time for your each other. A better relationship with each other will ensure you are better parents.
How do you make time for each other?  Do you have date night?
Catherine is a first time momma to a rambunctious toddler. When she isn't soaking up all that motherhood has to offer, you can find her blogging over at Plunged in Debt where she chronicles her and her husbands journey out of debt. You can also follow her on Twitter.