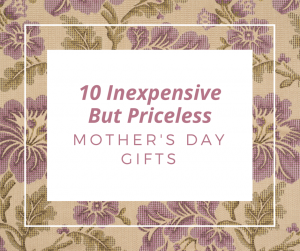 Mother's Day is just a couple of weeks away!
Some Moms love flowers. Some Moms love jewels. Some Moms love candy. Some Moms would just love some piece and quiet — at least for one day. I've got great news for all of you, who are trying to come up with a Mother's Day gift. You honestly don't have to spend a lot of money, to let the special woman in your life know that she is loved and appreciated.
Nope! You really don't. That's the great thing about Moms they love anything their kids (and hopefully their husbands) give them, even weeds from outside.
My boys gave me weeds they thought were flowers. These sat in a cup, in my kitchen for over a week. When I finally threw them away the boys asked me where they went. After I explained that they were all wilted and I had to throw them out — they promptly set off to get me some more. Aww!
Since I am a Mom, I have a Mom, I'm friends with lots of Moms and I worked in the retail industry for many years — I guess I would be considered and expert on the subject, of what makes a great Mother's Day gift. This is why I have decided to share what I know, with anyone who might be having a hard time coming up with the perfect gift.
Below you will find a list of some really fantastic – if I do say so myself – ideas. I am very confident that there is something for everyone here and that there will be at least one item on this list to fit your budget.
1. Kids' Hand Prints
Moms love anything that are handmade by their children and it's especially sweet when it contains the child's hand prints. This can be as easy as using some paint and construction paper to make a beautiful card. The hand prints can be used to make a wreath or flowers.
2. Give Mom a Day Off
We love being with our kids but sometimes it's just nice to take a day – or even a few hours – and spend it anyway we would like. So a nice thing to do might be get her a gift card to one of her favorite places. It doesn't have to be expensive just something you know she would enjoy. Or you can assemble a homemade gift certificate that she can redeem -to spend some time – doing whatever she wants.
It may sound silly. You may think "She can take time and do whatever she wants anytime. She doesn't have to have a gift certificate for that." For some Moms, they may feel guilty taking time for themselves, or they just don't do it. If this sounds like someone you know, then this is perfect. If you get a little bouquet of flowers to go with it — that's even better!
3. Have Her Car Detailed
The car is mom's mobile command center – she's driving the kids around all day long, and chances are they aren't the cleanest bunch. Things spill. The car gets dirty. And mom just doesn't have time to clean it up all the time. Even when she does have the time, it's not likely at the top of her list.
There are a lot of ways to get the car detailed – you can do it yourself, take it to a car wash, or even take it to the car dealer. We recommend the car dealership because they detail cars everyday, they usually do it very well, and the prices are very reasonable.
4. Make Mom Feel Special All Day
Let her sleep in, make her breakfast, leave the house or get the kiddos outside for a bit so she can get ready for the day, in peace. Try your best to make the whole day revolve around her. Do whatever it takes to keep things as stress free as possible. The rule for the day is that Mom isn't to do any household chores. She'll probably try, but keep it to a minimum. My husband did this for me last year and I really appreciated it!
Remember Catherine's rant last year about What Mom's Really Want For Mother's Day? Yes, remember that.
5. Pamper Mom
There are so many thing you can get for Mom that are pampering. A great smelling bath set, lotions, candles, super comfy slippers, a gift certificate for a manicure and pedicure, etc. — just think about what she enjoys, and you are sure to come up with the perfect gift.
You can even combo this with #4 and give her a full day of pampering.
6. Have Kids Write a Story
Maybe it's because I'm a writer, but I think a wonderful gift would be to help your kids make up a story all about Mom or Grandma. You can have them cut pictures out of magazines to illustrate the story, or they can draw their own. Depending on the ages of the children — this could get very interesting and fun. It will be a treasured keepsake and something she can bring out a read year after year.
7. Think Spring!
There is a very good reason Mother's Day is in May and I think it is because – in most places – spring has sprung. All the flowers are in bloom and it is just a beautiful time of year. You can always run down to the local farmers market and pick up a beautiful bouquet of flowers — but they also have gorgeous hanging baskets and other flowers, plants, trees, bushes, etc. that can be planted and enjoy for many months — or for many years to come.
8. Photo Gifts
All Moms and Grandmas love photo gifts! There are so many things you can put together and it can really fit into any price range — photo mugs, photo books, mouse pads, office supplies, clothing, etc. I am featuring Snapfish for two reasons — 1. They run awesome deals! 2. They offer a 110% quality guarantee. They aren't giving me anything to say this, I am just a really satisfied customer! Check them out. I've also used Walgreens and Costco with great success!
9. Jewelry
This may sound expensive but it doesn't have to be. Sterling Silver charms are quite reasonable and can be placed on a bracelet or a simple silver chain. Craft stores also have beads – and other jewelry making supplies – so the kids can make something special that Mom or Grandma will love — and wear with pride.
10. Shower her with Love!
This should be the easiest, least expensive and most meaningful gift of all!!
"A mother's love for her child is like nothing else in the world. It knows no law, no pity, it dares all things and crushes down remorselessly all that stands in its path."– Agatha Christie
Do you have suggestions? What was your favorite Mother's Day gift, you ever received? What was your favorite Mother's Day gift that you have given?