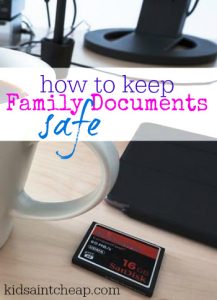 Sometime between Christmas and summer I get an urge to clean and organize everything in our home. I think this comes from a combination of the influx of new gifts at Christmas (in with new, out with old), the fact that we spend more time inside in the winter so I'm surrounded by ''stuff'' and the fact that come summer, I don't want to do any of this so I want it done beforehand!
Things have changed for us a bit over the past few years. Since adding a child to our family suddenly there are a lot more important ''things'' in our home. Things I want protected in the off chance something were to happen to us or our property.
Paper Documents
Passports, birth certificates, proof of insurance, you name it, if it's very important we keep it in a fireproof safe. I thought about getting a safety deposit box but it seemed like more effort. I was lucky enough to receive a large safe from my in-laws for Christmas, which we use to all important original documents.
If it's something you can have duplicates of (think insurance papers, not passports) scan them and keep a secondary copy on a computer or ideally in a cloud like Dropbox which you could access anywhere in the world.
Pictures
One of the things I am most thankful for in this technology age is digital pictures. I need to get better at backing them up but it's a lot less stressful than only having that one single original picture like our parents. I have a memory card that I upload all my important pictures to which again, goes in the safety deposit box. I also like to print some pictures giving me an added copy.
Kid and Family Stuff
Though we couldn't possibly keep every little craft or picture she makes us, there are some things she has made that I can't imagine ever losing. I have decided I can't let it get out of control though, I bought a small airtight plastic container to save these things in and once it's full we need to stop or cut back. Though this wouldn't  be any good if we were in a fire or something alike, it's safe from everyday 'house elements' and I also take pictures of my favorite, special crafts which again gets backed up.
Computer Stuff/Digital Life
External hard drives can be a lifesaver. You'd think I would have learned my lesson when my computer crashed in university, losing everything, but it took losing my computer full of non backed-up photos of my child to really learn the lesson. I now back everything up on an external hard drive- which again can go in the safe, or a cloud- which I have access to anywhere in the world.
Life is suddenly more precious when an entire family is involved. If a fire hit our house I couldn't care less about our clothes, dishes or appliances but if I lost my first Mother's Day card I'd be devastated. Kids put everything into perspective, keep your family safe and make sure your important things are protected!
How do you keep your family documents safe?
Catherine is a first time momma to a rambunctious toddler. When she isn't soaking up all that motherhood has to offer, you can find her blogging over at Plunged in Debt where she chronicles her and her husbands journey out of debt. You can also follow her on Twitter.