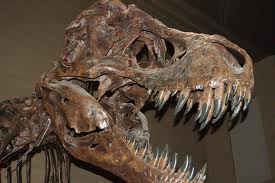 My oldest son, Harrison, turns 5 next week.  It's really hard to believe that it's been almost 5 years since our little Harry was brought into our lives.  What a crazy time that was and how quickly these past 5 years have gone.
Harrison is in full on dinosaur mode right now.  He is obsessed with them.  It's all he talks about, all he wants to read about and all he plays with right now.  He has been begging us to take him to the museum ever since he found out that there was a place he could go to see dinosaur skeletons.  Philladelphia is only an hour and a half away from our house but with our tight budget, it wasn't the easiest thing to plan but I was determined to take him for his birthday.
This Sunday, we packed the family up and went to Philly.  We didn't tell the boys what we were doing or where we were going.  When we got their, it was all we could do to hold Harrison back while we got the tickets.  It was a great day and a memory I will cherish forever.
We saw and did a lot this past Sunday but I managed to capture a small piece of it with my digital camera.  Check it out below if you are interested!
Our family at the Philadelphia Museum of Natural History
Have you ever taken your kids to a museum? How did they like it?