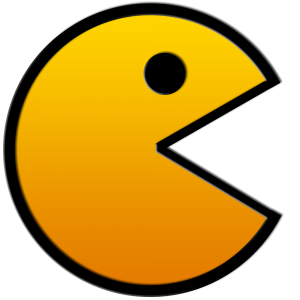 Maybe it's a rainy day, and the kids are testing your nerves—the day where nothing seems to satiate their boredom, and you want to scream. Hey, we all have been there! I remember one rainy day in which my child decided that coloring was fine—as long as he could color this one thing, Pacman. He had been playing a lot of Pacman on our Wii, and he wouldn't look at anything else. Fortunately, I was able to find him some Pacman coloring pages and save my sanity at the same time. Here are my favorite sites for Pacman coloring pages. You might even like them for some of their other coloring pages as well.
Coloring.ws is a fabulous site for the younger children, I would say from 3 – 5 years old. They have just a few coloring pages that feature Pacman, Pacman eating dots, ghosts, and cherries. These are simple pages that don't require much fine coloring. The best part is that you can allow your child to tape the coloring pages to the wall and allow them to create their screenshot of the game. They can take the time to create a story about what is happening and the outcome to you.
Coloring Home is my go-to coloring page website. When it comes to Pacman, there is a lot more to choose from. You can find all sorts of styles that can cater to the simple needs of a three-year-old to complex and fine line artistry of a teenager. Coloring Home also regularly updates their site, and you can find all sorts of retro and modern pop culture coloring pages.
Printable Coloring Pages is an excellent site for coloring pages. They have about a dozen Pacman to choose from and a few of those I haven't seen on other websites. They also range from straightforward coloring pages to others that invite more creative use of color and ingenuity. I also really appreciate their categories! They have so much to choose from, and the categories make it easy to narrow things down and find what you want (or the child wants).
Don't let the name fool you, this website has so many coloring pages, and many are for children much older than three years old! I find some of their Pacman pages designed more for a pre-teen or older children. Particularly the coloring page with a ghost and Pacman who has his brains exposed. It's not that it's a "bad" coloring page, just not one I would give my toddler. My son loves the video game mashup coloring page that shows a Pacman ghost running from a Mario brother and has coins between them.
These are my favorite coloring page sites and the ones I think are the easiest to use and find what you want. All of them have an amazing selection of pages no matter what it is you are looking for. Bookmark the categories you look for most, and you won't have to worry about another rainy day.
Read More:
Free Printable Kids Money For Download
8 Simple Rainy Day Activities For Kids
Keep Your Kids Artwork Without Cluttering Your Home Or Spending Money
Photo credit: Wikipedia Commons