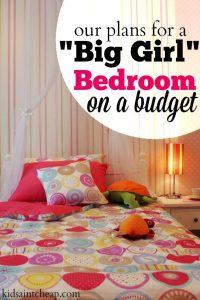 I have finally come to terms with the fact that our three year old has outgrown her bed. We have a crib that converts to a daybed and finally, with the help of a conversion kit, you can turn it into a double bed headboard and footboard. She has been out of her crib for a while now and has been sleeping in the daybed but it's getting to be tight quarters. I have been finding her hanging off the edge the last few weeks and she's a pretty small kid.
Other than needing a new bed, redoing the rest of her room really is not a necessity but rather something we'd like to do for her. When we did her bedroom up initially we didn't put anything ''too babyish'' on the walls or anything we couldn't easily remove, really other than the crib which now needs to go (we're not buying the conversion kit or double mattress) it's just changing a few of the decorations.
She received a little money for her birthday last month with instruction to use it for something that she needs, that something will likely be put towards a new bed followed by updating her bedroom a bit from the baby stuff to a slightly more mature room.
Thankfully she still loves the color of her walls (purple) so we don't need to paint for a while (mom and dad are glad!). We need a new bed, maybe something on her walls to replace the two or three things we plan on removing, something to help with storage and materials to redo her dresser.
My goal is to get all of this (including new bed) for less than $400. Here are our plans to make a big girl bedroom on a budget.
Saving on a Bed and Mattress
I'm all for buying used for most things in life but I won't buy a used mattress so we need to shop the sales. We're only getting her a twin bed though so that will save some money (and space in her bedroom) and the beds we've been looking at don't require a separate boxspring.
We haven't yet decided if we will be buying a bed or making one though. I have found some blueprints to make a loft-style bed but I suspect for what we'll pay in wood and supplies, we will be able to buy a twin bed somewhere (also the advantage of time with buying).
Homemade Wall Art
For the walls, instead of buying fancy prints at a department or home goods store, we will probably check out Etsy.com or even make something myself (like a collage of her art which can be swapped out). There are a million great ideas on Pinterest that can be checked out.
Other Problem Areas
Her dresser is an antique that was handed down to us. While I like the functionality of it, I don't love the look so I would like to somehow fix it up. It has some wood veneer on it which makes it kind of difficult to redo. I need to spend some time investigating how to work with this product before I was time and energy on it.
I don't think we need too much for additional storage. Most of the storage issues in her room can be solved by us going through and organizing her closet better. Our entire house has a lack of storage issue so closets often have multiple uses. Unfortunately for us though, she really does need the closet to be just dedicated to her things so the stuff that I have stashed in there needs to be moved.
Updating your kids room doesn't have to cost a fortune. Even if you wanted to do with an all-out themed room you'd be amazed what you can get at places like dollar stores. I know it will be tough but I think we'll be able to do it within our budget!
Have you re-done a kids room? Any tips for places to score deals?
Catherine is a first time momma to a rambunctious toddler. When she isn't soaking up all that motherhood has to offer, you can find her blogging over at Plunged in Debt where she chronicles her and her husbands journey out of debt. You can also follow her on Twitter.