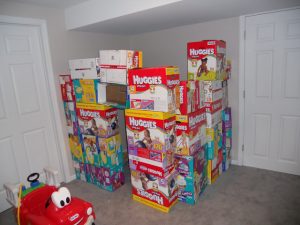 If you're a new parent, hearing that babies are expensive is no surprise.  Seriously, who knew a little newborn could go through so many diapers in 24 hours!  Sometimes, you know more than change the baby and the diaper needs to be changed again.
However, diapers aren't the only supplies babies run through.  They grow so quickly that an outfit that fits great one day can literally be too tight just a few days later.  My son was a big baby who went through new sizes every 6 weeks until he finally settled into 12-18 month for awhile.  Keeping up with their clothing needs can be expensive.  Let's not even talk about formula and baby pictures.
If you know what I'm talking about, you're likely looking for ways to cut corners without compromising on quality.  One great way to do that, especially if you're an avid online shopper, is CouponChief.
How CouponChief Works
You've likely seen that online retailers have a box for promo codes when you check out, and you likely know that there are sites online that will share online promo codes.  CouponChief works the same way, with a few differences.
CouponChief shares the promo code, but then you can read other people's comments about the code and also see how frequently the code works.  Best of all, unlike some other sites, CouponChief removes the code when it's expired, which makes your search more productive and less time consuming.  (And anything that helps save time when you have an infant is welcome!)
Even better, you can create a profile and then save your favorite searches.  For instance, let's say you want to see all the promo codes related to the "baby" category.  CouponChief will e-mail you every time there is a new code for anything from diapers, to baby clothes, to portrait studio packages.  You don't need to keep checking the site; they send the information to you.
Make Money with CouponChief
Not only will CouponChief save you money, but it may also be able to make you some money.  If you're good at tracking down coupon codes, share it on CouponChief, and you'll earn 2% of the purchase total that others make using your coupon code.  You can earn up to $25 a month, per coupon.
How sweet is that?
Kids are expensive, but if you learn some tricks such as using promo codes to save money and sharing coupon codes to make money, having children becomes just a bit more affordable.