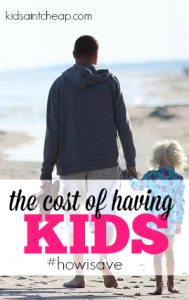 This post is part of the TaxACT How I Save blog tour which teaches you ways to keep more money in your pocket. Last year, TaxACT saved America over $240 million on tax preparation. How much can you save? To learn more about tips and strategies on saving, click here. 
I'm always blown away when the media reports that it costs hundreds of thousands of dollars to raise one child. The breakdown of this number usually contains an absurd amount of spending on things like clothing, entertainment, and food.
The truth is, unless you're stuck with thousands of dollars in medical bills the cost of raising a child is not tens of thousands of dollars.
Here's how I am able to raise two children for well below the "average" cost.
I Limit the Amount of Toys that Come in My Home
When my kids get new toys they're usually interested in them for a maximum of two days before they get tossed aside.  They have more fun playing outdoors than they've ever had playing with a toy. I think this rings true for most kids.
Kids do not need all the latest and greatest toys to be happy. It can be easy to go overboard but the truth is a handful is all they really need.
I Buy Clothes Secondhand
If you buy your kids brand new clothes and shoes every time they move up a size you'll be spending a lot of money in clothes! That's why we've opted to buy secondhand.
The truth is by shopping garage sales, thrift stores, and consignment shops I can get higher quality clothes for $1/piece than I would buying brand new from a retailer.
Shopping secondhand is not only a great way to save money but it's also a great way to find quality.
I Take Advantage of Free Entertainment
While I do want my kids to have plenty of opportunities in life I've come to realize that the best opportunities don't cost a dime.
The times where I feel our family is the closest is when we are enjoying each other's company, usually outdoors. We take walks through the woods and creeks, fish, play in the snow, and make leaf piles. Other times we just snuggle up on the couch and watch a movie.
We don't go on a huge family vacations or partake in other costly activities each year. We can have a good time together right where we are!
I Know a Want vs. a Need
Kids don't need to go to Ivy League Preschools, wear brand new clothes, and be waited on hand in foot. All kids really need is love and stability and that's something money just can't buy.
While I completely understand a parent wanting to lavish their children with monetary gifts it's just not necessary. In the long run you'll be better off by having your kids work for what they want rather than handing them everything on a silver platter.
You can have a happy, healthy family without draining your bank account.
Some Savings for You
Today we also have the opportunity for you to save a little money. Enter the giveaway below for a chance to win one of ten copies of TaxAct Deluxe!