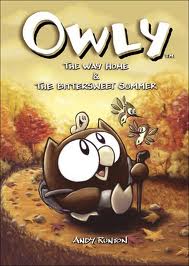 As I have mentioned in previous posts, I have loved and enjoyed comic books for most of my life. Most people that have never been truly exposed to the medium lump them all into one category, childish superhero fantasy.  While I am a big fan of superhero comics and find most modern superhero comics to be anything but childish, the point of this review is to show you that the medium of comics can and does tell a wide variety of stories.
Comics, in the simplest terms, are stories told with both writing and art.  They cover a huge variety of genres and are aimed at an equally wide number of audiences and age groups.   Owly is an independent comic book that is both written and drawn by Andy Runton.  There is very little text in Owly.  Mr. Runton uses expressive imagery to tell very emotional and heart warming stories.
Who is Owly?
Owly vol 1 is the first comic book I bought for my children.  Harrison was 3 and Sean was 1.  Both were too young for it but they have grown into it since.  Owly is not in the typical comic book format, it is shaped more like a standard book and much thicker than a comic.  The first volume includes two stories: The Way Home and The Bittersweet Summer.  Owly is an adorable owl who knows what it means to be human.  He is a reflection of the sweet and innocent child in all of us.  In the first story, Owly is lonely and in search of a friend.  He is misunderstood by the other animals around him but he perseveres and in the end he learns the meaning of friendship.  In the second story, Owly needs to learn how to let go but he also learns that goodbyes aren't always forever.  Both stories teach a valuable life lesson to children.
As I mentioned previously, there is very little writing in Owly, it's done almost entirely in black and white pictures but that is the beauty of it.  The art is so expressive that it's easy to take your child through the story and talk about what is going on in the panels.  The book also allows your little one to express himself through the images, to create his own dialogue and explain to you what is going on.  It let's them use their imagination to tell a story that matches up with the images in front of them.  My wife had a hard time with this book at first.  The first part of the first story is heart wrenching, poor little Owly just wants to be friends but is rejected at every turn in the beginning.  The art is so expressive it nearly brought her to tears the first time.
If you can't already tell, I highly recommend Owly.  I reviewed vol 1 simply because it's a good starting point but there are 5 volumes that I know of.  Owly is published by Top Shelf comics and may be available via your local comic book store.  If you can't find it locally, Amazon has it at a great price.  Check it out for yourself at Owly Vol 1.