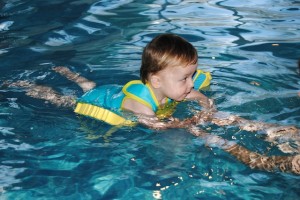 You may have heard of baby swimming already. Though what you may NOT have heard about are the *ahem* 'little surprises' than a baby without a swim nappy can leave behind in the pool.
One company in the UK pioneered a defensive system: the Happy Nappy Swim Nappy! (More info here).
A swim nappy is designed for use in water, primarily for babies but can be worn by adults also. They are used either underneath a bathing suit or as the bathing suit itself.
Although they can serve the purpose of containing waste for some incontinent grown-ups, swim nappies are more commonly manufactured for babies who are not capable of visiting the toilet themselves.
For parents who wish to take their infants to the seaside or a public swimming baths, investing in a swim nappy can make the experience a whole lot easier and save potentially embarrassing situations. Some public baths will actually not allow babies entry into the pool without a swim nappy for hygienic reasons.
How do Swim Nappies Work?
Normal bathing suits do not provide adequate protection from accidents. Likewise, regular nappies are not suitable for use underwater as they will soak up water and weigh down the baby. A swim nappy is designed to combat these problems.
Contrary to popular belief, their main purpose is to actually catch waste and not absorb it; a nappy like this would simply actually swell up. Urine can simply be allowed to escape as it is not sterile.
There are two types of swim nappies available for consumers. These are:
Reusable – Lined with soft, stretchy fibres, the reusable swim nappy will encourage solids to cling to the inside without soaking up waste into the material. An inner mesh layer helps with this, where fluids can escape though solids can't. The main disadvantage of the reusable nappy is that they must be washed after each use, although this is cheaper in the long run and more eco-friendly.
Disposable – The alternative comes with disposable swim nappies that come in multi-packs and need to be thrown away after each individual use. An absorbent core is present but is designed so as not to take in too much liquid. A tight but comfortable elastic around the legs and waist are essential for containment purposes.
Which Nappy to Buy?
The size and weight of the swim nappy should be the main buying considerations; comfort for the baby is paramount along with functionality. Lycra materials and a stretchy elastic waist will make for easier changing also.
Different types of nappy are available. Think of easy they will be to put on and take off, especially if they are reusable swim nappy. Trying out different versions in store, or simply buying a range of them from various manufacturers, can help parents decide on the best nappy.
In the UK well known brands Huggies and Pampers produce swim nappies, marketed as Little Swimmers and Splashers respectively. For parents who already use them yet are still worried about any leakage, The Happy Nappy by Splash About can be purchased as an extra assistant to a regular swim nappy.
Regardless of the type of swim nappy chosen for your child, staying vigilant whilst they are in water is a good idea. Check every so often to see if the swim nappy has been used and, if it has, how well it has performed.
Do You Enjoy Taking Your Baby Swimming?