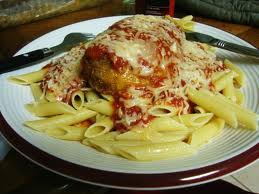 Are you getting bored with the same three or four meals on your dinner rotation each week? I know I am. With money tight and picky kids, I feel your pain. If you are looking for some fresh ideas to feed your family that cost around ten dollars, here are five ideas that have all passed the kid test in my household, yet don't make my husband roll his eyes and say "that again?"
1) Easy Chicken Parm
I got this recipe off the back of a bag of Tyson's Grilled and Ready Cooked Grilled Chicken Breast Strips and modified it a bit to make it my own. It's fast, easy, and nutritious.
Grocery List
One cup Tyson Grilled Chicken Breast Strips or use left-over cooked chicken from another night. A bag of pre-cooked grilled chicken costs about $7.00, but will make 3 or 4 meals. Approximate cost for tonight's meal- $2.00.
One package shredded mozzarella (I use a low-fat variety)- about $2.50.
One jar spaghetti sauce- about $3.00.
One package fresh baby spinach-about $3.00.
Optional- one package of spaghetti- about $2.00.
Approximate Cost $10.00-$12.00.
Directions: Follow the recipe for Chicken Marinara on the back of the Tyson bag or at Tyson.com
After the chicken is sauteed and the sauce is simmering, add several cups of baby spinach leaves and cover. After the spinach is cooked to your taste, sprinkle dish with mozzarella cheese and cover again until melted. Serve over spaghetti or a pasta of your choice.
2) Chicken Fried Rice
This is a fan favorite in my house and my five-year-old loves to help scramble the eggs!
Grocery List
One cup Tyson Grilled Chicken Breast Strips (same as above)- around $2.00.
3 eggs (out of a dozen, should run you about a dollar).
3 cups instant brown rice (less than a dollar).
½ cup frozen green peas (less than a dollar).
One bottle soy sauce- about $3.00.
Approximate Cost $8.00
Directions: Saute chicken in canola oil and then scramble three eggs in the same pan. While this is cooking, make your instant rice in a separate pot. When the rice is ready, drain and transfer to the chicken and egg mixture. Cook ingredients at high heat with a little more oil until it browns up. Add frozen peas and soy sauce last and cook over low heat until peas are cooked through.
3) Crock Pot Roast
Great for days when you know you come home late from kids' activities, this dish smells great as soon as you walk through the door. There is no need to force the kids to eat a separate serving of vegetables… it's in there! This recipe usually makes enough for left-overs, too.
Grocery List
Pot roast (enough for 4 servings)- $6.00
Pot roast seasoning packet- $1.00
4 large potatoes- $2.00
6 large carrots- $2.00
Approximate Cost– $11.00
Directions: Cut potatoes and carrots into large pieces and place on the bottom of the slow cooker. Place pot roast on top of vegetables. Add water to seasoning packet, mix and pour over the top. Cook around 4 hours on high, then cook on low for another 1-2 hours.
4) Baked Mac 'n Cheese
If you are sick to death of the boxed kind, try this easy and inexpensive recipe for homemade mac 'n cheese. It is a real comfort food that will fill up your kids' bellies on chilly nights.
Grocery List
1 (12 ounce) package macaroni- $2.00.
1 egg- about 50 cents.
2 cups milk- $1.00
2 tablespoons butter, melted- less than a dollar.
2 1/2 cups shredded Cheddar cheese- $3.00
Salt and pepper to taste- pennies.
Approximate cost– $8.00
Optional: For variety, I like to add either diced ham with green peas or broccoli florets.
Directions: See allrecipes.com for complete directions. A four star recipe.
5) Bread Crumb Chicken or Chops
This recipe can be thrown together in about 10 minutes and it is a hit with my husband and both kids. When my son ate the recipe made with pork chops, instead of the usual chicken, he declared that it was the "best batch you have ever made."
Grocery List
One package of chicken breasts (4) or Boneless Pork Chops- $6.00
½ Cup Breadcrumbs- 50 cents
½ cup milk- 50 cents.
P.S. I like to serve mine with rice pilaf and a veggie on the side.
Directions: Dip chicken or pork in milk and then roll in bread crumbs until covered. Saute in olive or canola oil, turning over frequently, until brown. Cover and cook at reduced heat until the meat is cooked completely through. Voila!
To save even more money at the grocery store, don't forget to:
Buy on sale. Look in the fliers each week and plan your menu choices around what is on sale each week (cut out coupons too).
Buy fruits and vegetables in season, as they are always cheaper.
Do you have any favorite family dinners that cost less than $10 to make?