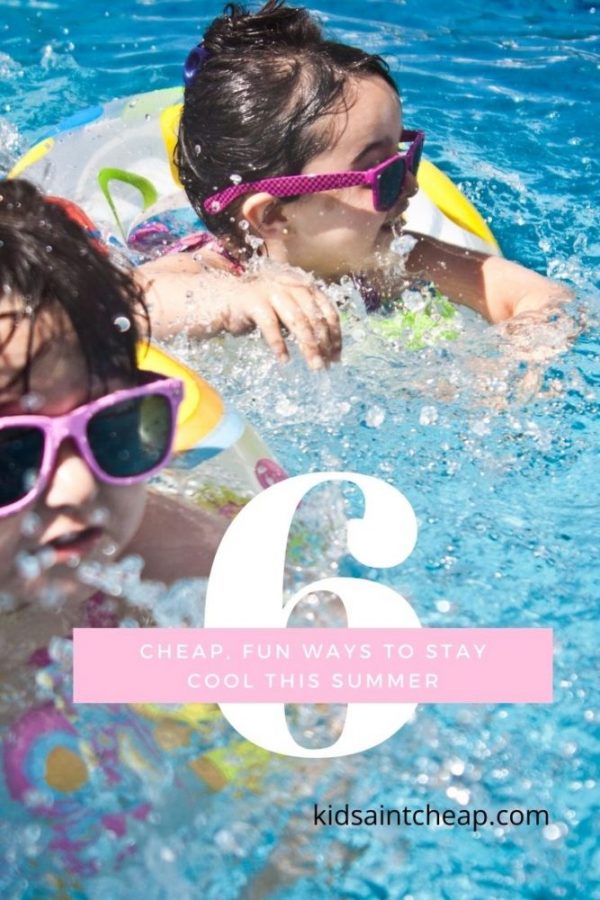 After a long, cold winter, most of us embrace the warmer summer temperatures. . .until the weather becomes uncomfortably hot. We're in Arizona and going through a heat wave; the daily highs will be 114 to 115 degrees for the next week. However, just because it's hot doesn't mean you and your kids have to be confined to the house all day. There are many cheap, fun ways to stay cool this summer.
Outdoor Activities
Play in the Water
Slap some sunscreen on and break out the sprinkler! My girls are 11 and 12, and they still love to run through the sprinkler and cool down.
If your kids are too young for a sprinkler opt for a kiddie pool or water table. When our kids were little, they could play for hours splashing water and throwing stuff in the water of their small stand-up water table. This is cheap, easy entertainment while still enjoying the summer.
You could also take the kids to the local community pool. Once a week my husband takes the kids to our community pool to cool off for a few hours.
Enjoy the Shade
Trust me, I know, some days even shade doesn't cut it, but for the other days, plan a day of shaded activities only. One fun idea is to build a fort outside with sheets to play in! You're protected from sun yet burning off some energy while enjoying fresh air.
Eat Some Cool Treats
Experiment with fun, cool healthy treats. Freeze smoothies into popsicles, eat some frozen fruit or jazz up water with frozen fruit for added flavor. Making homemade ice cream and experimenting with flavors is another option.
Indoor Activities
Walk Inside
If you need the A/C, try getting exercise at the same time. Super hot summer days are a great excuse to go to the mall…for a walk. Malls are air-conditioned and have wide halls that make a great walking path. If a true shopping trip isn't in the budget, go to the mall and maybe grab a small treat like an ice cream at the food court. As long as your child knows the stipulations for the trip to the mall, whining should be limited when they can't get the t-shirt/teddy bear/cell phone that they need.
Go to the Summer Movies
Every summer, theaters around the country offer discounted movie tickets for kids and their parents. Often, you can buy tickets for as little as $1. True, you don't get to choose which movie you see at that price; you have to see the movie that the theater company designates. However, who can argue with a cheap movie and two hours of air conditioning while you watch?
Go Bowling
Likewise, bowling alleys also offer discounted bowling rates for kids. While this activity is fun, it's probably the least frugal activity on the list because the price of renting bowling shoes can add up quickly. If your kids have their own bowling shoes, then this activity becomes much cheaper.
Final Thoughts
Hot summer days don't mean all fun has to be zapped. While it is more difficult, it isn't impossible to find cheap fun ways to stay cool this summer.
What are your favorite ways to stay cool this summer?
Read More
12 Free or Cheap Things to Do with Kids This Summer
Cleaning Poop and Other Jobs Your Kid Can Do This Summer to Earn Money
Melissa is a writer and virtual assistant. She earned her Master's from Southern Illinois University, and her Bachelor's in English from the University of Michigan. When she's not working, you can find her homeschooling her kids, reading a good book, or cooking. She resides in Arizona where she dislikes the summer heat but loves the natural beauty of the area.