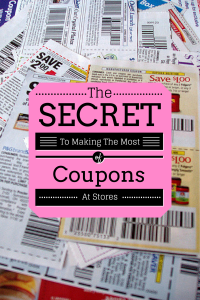 If you go shopping on a regular basis, whether it be for food, household items, or clothing, it's a little pricy when you leave with a basket full of items. One of the best assets to have if your going any type of shopping, is to have some coupons. There are millions of coupons that get printed everyday, the trick is to get your hands on the right ones.
Along with all of the paper coupons printed in the daily newspaper, you can also find coupons online. Depending on what you are searching for, whether it be coupons or promos for clothing, deals that you can find and use on your groceries, the gift of floral arrangements, or even electronics, then there is a coupon that is available for you for whatever it is that you seek.
The Basics of Finding and Using Coupons
First you have to find the best coupons to use. There are a ton of different ways to get coupons.
The most common way to find coupons is in your local paper. Every day there are coupons, but the best coupon days are usually Sunday and Wednesday. In fact, that is why you typically pay more for the Sunday paper.
If you're in the know, you can also buy inserts from the Sunday paper. There are typically outlets that will sell these in bulk. This is the "secret" that many extreme couponers don't tell you. That's how they get multiples of the same coupon.
Second, you can find a lot of coupons online. Most retailers put coupons on their website for you to print out.
We also maintain a list of coupons to print: Printable Coupon Page. We update the list regularly for coupons that you can print out online. Be sure to check back.
Saving Even More Money With Double Coupons
You've seen it on TV, but the trick to saving the most money with coupons is to double coupon. Most retail stores and grocery stores allow some type of double coupons.
At grocery stores, you can typically do straight double coupons – where you use two manufacturer coupons per item.
At retail stores like Target, you can double coupon with one manufacturer coupon and one store coupon (i.e. coupons from Target).
Combo-ing Coupons With Online and Store Discounts
The next big way to save is that you need to take advantage of the unique discounts that each store offers.
At grocery stores, this typically involves joining their club. Being a part of the grocery store club not only allows for special perks, but it get's you special sales and discounts on products. You can then combine this club discount with the coupons you have for even more savings.
At retail stores, you can now find apps that are luring shoppers with savings. For example, Target has Cartwheel and Walmart has Savings Catcher. These apps provide special discounts which you can combine with your coupons for even more savings.
The Icing On The Cake: Partnering Coupons With Ads
Finally, the creme de la creme is to combine all of your couponing efforts with the store ad this week. This is how the best do it to save the most money.
Typically, the best deals you're going to find involve buying multiples or buying something and getting a gift card. For example, you could find a sale for Buy 2, Get a $5.00 gift card. What if you could also find a double coupon that made the original item or very cheap? Then, you're getting the $5.00 gift card on top of the coupon saving – which you can then spend later. That's free money!
What other coupon tricks do you have?