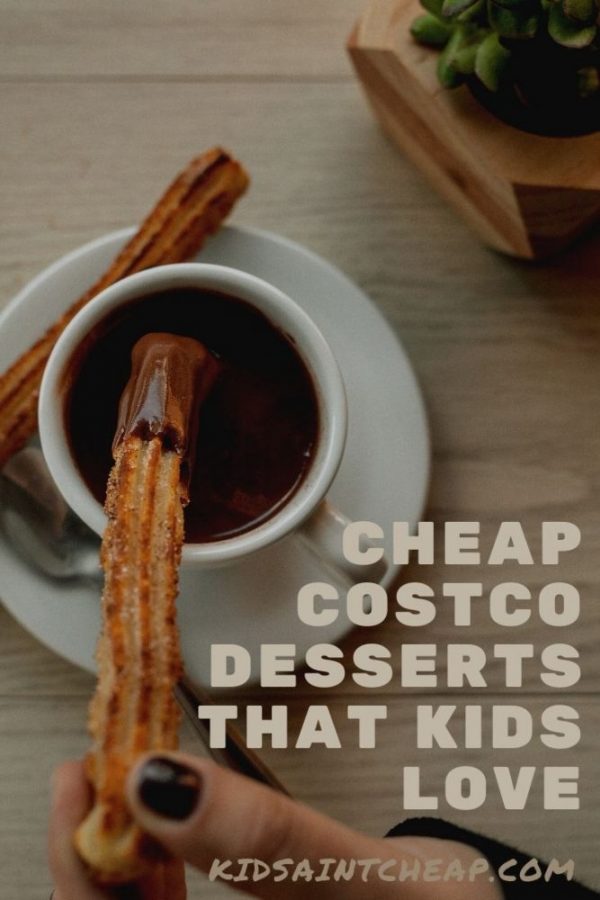 For some kids, a trip to the grocery store with mom or dad is B-O-R-I-N-G.  Yet, for many of those same kids, a trip to Costco is fun.  Why?  My guess is the free samples.  If you can get free, tasty food while you're shopping, going to the grocery store is suddenly a lot more fun.  Even better, kids can try to convince their parents to buy those cheap Costco desserts that kids love (and grown ups, too!).
Cheap Costco Desserts That Kids Love
There are so many delicious desserts at Costco, almost all of which are reasonably priced.  Kids, in particular, tend to gravitate to these desserts:
Churro From the Food Court
Don't buy your kids these unless you plan to buy them every visit.  The churros are that good!  Costco churros are a full 18 inches long and are fried and coated with cinnamon and sugar.  Best of all, they're only $1!
Delizza Patisserie Belgian Mini Cream Puffs
Found in the freezer section, Delizza Patisserie Belgian Mini Cream Puffs can't be beat.  There are 120 mini cream puffs in the container, making them perfect for parties or to just snack on after school.
These feature a light, flaky pastry filled with a decadent cream filling.  You should let them thaw for 30 minutes to one hour, but some people can't wait and eat them right from the freezer.
They're mini size make them the perfect kid-friendly dessert.
Costco Danishes
Who needs donuts for breakfast when you can have a Costco danish?  Found at the bakery, you can choose from several different flavors such as cinnamon, cheese, apple, and cherry.  Serve these for a delicious weekend breakfast or gently heat one up in the microwave for an after-school snack.  Cinnamon danishes used to be my favorite flavor when I was a kid.
Ice Cream Sundae
If you decide against the churro at the food court, you and your kids may want to opt for the ice cream sundaes.  These are $2.49, and you can choose between two different toppings—strawberry or chocolate.  These are the perfect treat after a summer shopping trip to Costco.  Even better, Costco is very generous with the toppings, which helps to elevate this dessert to a whole new level.
David's Cookies 9-Inch Rainbow Cake
What's better than bright, rainbow colors and sugar?  For a kid, the answer is nothing!  David's Cookies 9 Inch Rainbow Cake will delight your kids.  Inside, you'll find five thin layers, with white cream frosting in between each layer.  The layers form the color of a rainbow with red, then orange, then yellow, then green, and finally blue.  Your kids will likely be delighted when you serve this yummy, fun cake.
Final Thoughts
Your kids likely enjoy going to Costco with you because they can get free samples.  They'll likely beg to go with you every time if you give them one of these five cheap Costco desserts that kids love.
Which Costco dessert do your kids enjoy most?
Read More
Costco Legos Q & A: The Best Deal in Town or Not Worth the Trip?
Why a Costco Membership Is Beneficial to Our Family
How to Save Money on Birthday Parties (and Still Have a Good Time)
Holiday Schedule For Costco 2023
Editors Note: If you don't want to go to Costco, there are plenty of great dessert recipes available on the web.  For example here is very nice collection of recipes for Puerto Rican desserts – far better than the Churros at the Costco food court.
Melissa is a writer and virtual assistant. She earned her Master's from Southern Illinois University, and her Bachelor's in English from the University of Michigan. When she's not working, you can find her homeschooling her kids, reading a good book, or cooking. She resides in Arizona where she dislikes the summer heat but loves the natural beauty of the area.