As a parent to a young child, nothing beats the convenience of disposable diapers.  Even if you feel inclined to use cloth diapers, which most parents don't, you're not always able to do so because many daycares only accept disposable diapers.  However, for eco conscious parents, disposable diapers may morally be tough to use.  After all, they take decades to decompose (some estimate as many as five hundred years!).  The decision to use disposable diapers is a bit easier if you consider an eco-friendly company like Dyper.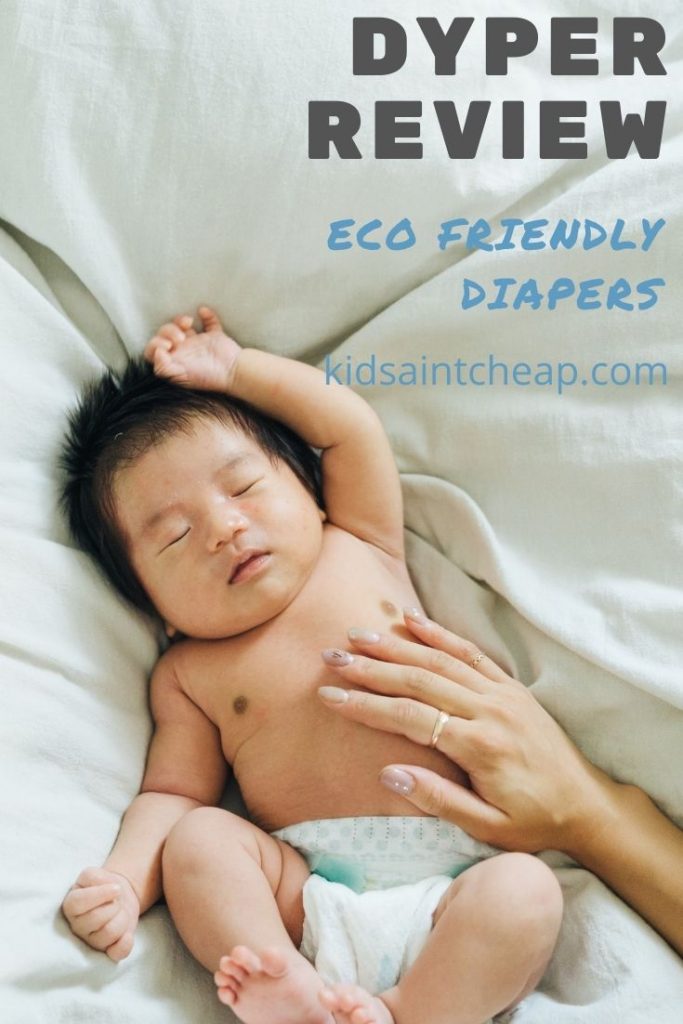 Dyper Review
Dyper is an eco-friendly company that offers diapers and services unlike any other on the diaper market.
What Makes Dyper Different
There are many ways that Dyper is different from other diaper companies.
Eco-Friendly Diapers
Dyper's diapers are made of bamboo.  Unlike other disposable diapers, Dyper's contain no print or decoration; the diapers are solid white.  These diapers also are free of many chemicals found in other brands.  Specifically, they do NOT contain any of the following:
Chlorine,
Latex,
PVC,
TBT,
Antioxidants,
Perfumes,
Lotions, or
Phthalates
SOS Program
When you buy from Dyper, you sign up for a monthly delivery of diapers.  However, should you run short on diapers, Dyper has an SOS program.  This program, available a maximum of two times per year to active subscribers, will give you diapers within four hours (if you live in the 12 large cities currently offering this feature.)  Otherwise, diapers will be sent to you the next day.   Even better, they'll be sent to whatever location you're currently at, even if it's at the beach while you're vacationing.
Recycling Program
Dyper offers a ReDyper program (extra fee applies).  The company will send you eco-friendly bags, a shipping box, and prepaid label.  When you're ready to empty your diaper pail, don't put the contents in the garbage, which will go into the landfill.  Instead, put the diapers in the bag in the shipping box, seal and label and put it out by your front door.  Dyper will pick it up and recycle your diapers, keeping them out of the landfill.
This option is something that really sets Dyper apart from other diaper companies.
How Much Is Dyper's Monthly Service?
A monthly subscription to Dyper is $68 a month.  The first month, you get 30% off, making your total $47.60.
The number of diapers you get per month depends on the size diaper that your child is wearing:
Newborn – 264 diapers/delivery
Small – 224 diapers/delivery
Medium – 184 diapers/delivery
Large – 140 diapers/delivery
Extra Large – 120 diapers/delivery
Other Products Dyper Offers
In addition to disposable diapers, Dyper also offers
Training pants,
Cloth diapers,
Baby wipes,
Alcohol wipes,
Diaper cream,
Diaper pail, and several other products
Basically, Dyper has your diapering needs covered.
Final Thoughts
Hopefully, this review has helped you to see that if you're looking for an eco-friendly diaper company, look no further than Dyper.  Their convenient subscription service saves you the hassle of making trips to the store for diapers, and their recycling program keeps disposable diapers out of the landfill.
Read More
How to Save Hundreds on Diapers,
Free Diapers for Low Income Families,
Cloth Diapers Vs. Disposable Diapers
Melissa is a writer and virtual assistant. She earned her Master's from Southern Illinois University, and her Bachelor's in English from the University of Michigan. When she's not working, you can find her homeschooling her kids, reading a good book, or cooking. She resides in Arizona where she dislikes the summer heat but loves the natural beauty of the area.