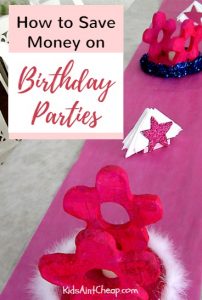 Pinterest is a magical place for party planning, especially for kids' parties. Due to the unspoken pressure created by social media, DIY-themed events can become a financial sinkhole quickly. That's why I've put together how to save money on birthday parties, and still have a great time.I've seen
I've been the Pinterest mom, scouring professional cake designs and theme-consistent decorations, utensils, favors, mascots, and skywriting airplanes. OK, maybe not the last one. I'm not saying you shouldn't have fun stuff; I'm just saying sometimes we all need to step back from the culture of excess that permeates the internet and reboot.
We all need to take a moment and remember how things were when we were kids. No Instagram filters. No professional photographer.
I'm talking homemade sheet cake with mismatched birthday candles. Party hats made from construction paper. Running around in the backyard with friends.
We didn't have many elaborate birthday parties growing up. But every birthday, large or small, was great. Odds are, your kids will feel the same way, too.
So here are a few ways to lift some pressure off your shoulders, save money, and have fun.
How to Save Money on Birthday Parties (and Still Have Fun)
1. Scale back.
Not every year needs to include a birthday party with 20 guests, a main course, three dessert options, and a bouncy castle in the back yard. For example, my daughter turned four shortly after Christmas, so we had a simple celebration at home with her grandparents. She helped me bake a cake from scratch and got a kick out of sticking the four candles in the cake, herself.
She'll have bigger parties in the future, but I believe it was good for her to have a simple celebration with family this time. She had so much fun, and it certainly saved us a small bundle.
2. Give experiences.
One of our gifts to our daughter this year was a playdate at one of her favorite indoor bounce house entertainment centers. There was a discount on Groupon, so we set the date, invited friends, and enjoyed an afternoon together. You could even do this at a later time instead of a large birthday party.
To learn of discounted events in your area via Groupon, click on their website and type in your city. These deals fluctuate constantly, so make sure you check in from time to time.
3. Utilize the power of the Dollar Store.
Perhaps you've chosen your party theme and it's time to pick out decorations. When I threw a "Thomas & Friends" party, Amazon had bundle upon of bundle of great decorations. My cart was filling up quickly. I finally realized I could buy a few of those items in generic colors and they'd still tie into the theme.
That brings us to the power of the Dollar Store. If you want to save money on birthday parties, don't force yourself to make every item match perfectly. You can have plain, white cups and napkins to go with your Frozen theme. Plastic table cloths are another great example where solid colors work well.
If you have a budget for party items and need to save money, try out a few of these suggestions and see how they go. Like I said before, it's great to have a party and celebrate your child, but you don't have to go all out just to make them happy. Kids come predisposed to love birthday parties.
How do you find ways to save money on birthday parties?
Image via Alvimann (MorgueFile)
Are you a stay-at-home mom? Make sure you bookmark or pin some of these resources for later!