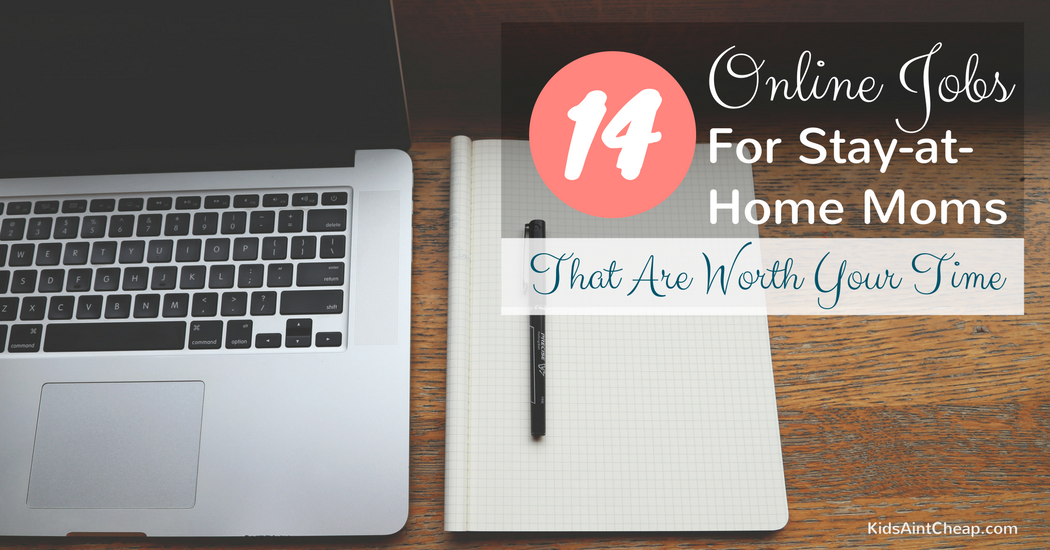 If you dream of staying home with your kids and want to work from home, then it's likely your finances will make a significant change. That's only natural, but planning ahead as you search for stay-at-home mom jobs online can be crucial to a successful transition.
I made that switch in 2015, launching my own part-time freelance writing business. I have two young children under my care and work 12 to 15 hours a week earning $1,500 to $2,500 per month. None of this just happened, so the last thing you'll hear from me is that it'll be easy.
But if your goal is to stay home, and your whole family is willing to put in the sacrifices and commitment, then this dream can become a reality.
14 Cash-Generating Stay-at-Home Mom Jobs Online
I write in the personal finance and work-at-home mom niches multiple times each week, so I've got an ongoing list of places that pay you to work at home.
You're likely tired of hearing bloggers promise quick six-figure success as a work-at-home mom because that's simply not the norm. I'm also not going to talk about taking surveys because those require large quantities of time and typically generate a few gift cards each month.
Where to begin?
You may need to start with something in your field of interest that doesn't generate the ultimate income you'd like. Just getting your foot in the door and starting up that experience is so important.
Let's take a look at these job opportunities for SAHMs:
Remote work for companies
Every year, Forbes publishes a top 100-list of companies offering remote jobs. To ensure they bring you the most valuable information, they study the current marketplace, job trends, and validity of these companies. If your skills lie in one of these industries, check out Forbes' list of potential remote jobs:
Computer and Information Technology
Medical and Health
Government
Finance
Customer Service
Education
Training
Sales
Virtual Assistant
If you have a knack for organization and administrative duties, then you've got the potential to make serious cash as a virtual assistant. Seriously, this is a stay-at-home mom's bread and butter. So many online entrepreneurs have irons in the fire and need help running the many details of their business. Some responsibilities for a virtual assistant might include:
Answering emails
Scheduling appointments
Managing invoices
Managing blog content
Sharing content on social media
Designing graphics
What can you earn? According to Payscale.com, virtual assistants earn anywhere from $10 to $28 per hour. Your hours are very flexible and the work is remote, so you can conduct all of your business from the comfort of your home.
Alternate VA Jobs
Social Media Manager – Average annual salary according to Payscale.com: $47,472.
Graphic Designer – Average annual salary according to Payscale.com: $41,764.
Freelance Writer
Got a gift with words? Hundreds of sites hire writers to create relatable and informative content for their blogs. For example, here are 28 parenting magazines and blogs that pay contributors. If you're a mom, then take a look at what's being published on those sites and see if something inspires you to tell your own story.
Another great way to get started is by Googling your field of interest + "write for us." Some writing niches include:
Nutrition
Adoption
Personal Finance
Organization
Marriage
Travel
Fashion
What can you earn? When I started my freelance writing business in 2015, I earned peanuts while I learned the ropes. That changed as my skills and quality of writing improved. According to Payscale.com, most writers earn $10 to $58 per hour. I speak from experience when I say that pay scale is totally accurate.
Alternate Writing Jobs
Proofreader – $11 to $30 per hour
Transcriber – $9 – $25 per hour
Blogger – You won't likely generate an income with your blog right away. But some very profitable ways to monetize are: Ads, affiliate sales, sponsored posts, and selling your own products. There several good instructions for how to get started – one good site to read is here.
One of the most profitable affiliate niches is in online trading, you can easily become an affiliate by visiting a broker's site like this one.
Teach via Video
Do you have a specific skill you can teach to others, like how to sing? Perhaps you'd like to educate others in your area of work experience like how to file your taxes, become a photographer, or give a speech.
For example, one of my daughter's favorite things to do is draw. When she was three and couldn't draw more than a stick figure, we found a YouTube channel called "Art for Kids Hub" where easy-to-follow drawing tutorials are published every day.
By the end of my daughter's first lesson, she'd drawn her very first robot. Since then, she's filled a notebook, cover to cover, with drawings from this YouTube channel.
Watch the tutorial: How to Draw a Cartoon Robot
What can you earn? There is no definitive wage for educational videos. It's all about creating your brand and giving your audience fantastic content every time. For example, Art for Kids Hub has more than 600,000 subscribers and receives millions of views on its tutorials. YouTube pays ad revenue per 1,000 clicks. Some YouTube educators make millions with their channels. Others break even. It's all about getting eyes on your videos.
Alternate Online Teaching Jobs
Create a course – Selling a course on your website or Udemy.com can become a great passive income. Some courses are $10 and some are in the hundreds.
Become a coach – Teach people one-on-one in your field of expertise. For example, life coaches can earn anywhere from $11 to $120 per hour according to Payscale.com.
Online Shop Owner
Can you create a product and sell it online? Etsy and Shopify are two great platforms for this. Product ideas include:
What can you earn? The income scale is difficult to measure due to the vast array of business possibilities. Here is one company that earns $70,000 per month selling on Etsy. You'll need to know how much time it takes to create each product and to price them accordingly. Online marketing plays a huge role here, too. It's likely a competitive market.
Flipper for online garage sales
Online pickers are getting better and better at finding hidden gems in garage sales, on eBay, and on social media. If you can spruce up a worn down cabinet or reupholster a chair, you may be able to upsell those items for a nice profit.
What can you earn? One woman I interviewed said she bought some old clay bowls in a Facebook buy, sell, and trade group. She purchased them for $0.50 to $1, then cleaned them up and added a fresh coat of paint. They sold for $15 to $20 each.
Direct sales/MLM online
If there is a product you believe in and want to become a consultant from home, then online is the ideal marketplace for you. Products like LuLaRoe, Norwex, or Young Living sell best through the power of word of mouth. Where is everybody talking these days? Facebook.
One word of caution: This is a heavily saturated marketplace. Don't annoy your friends. If you believe in your product, then get out there and talk your heart out, but do so in a tasteful and non-aggressive way when it's very likely your friends have been "pitched to" by others from the same company before.
What can you earn? Each company will tell you the earning potential for contributors. That information is not disclosed online. There is typically an upfront investment to acquire the merchandise, then a set timeframe in which you need to sell a certain amount of product. Bonuses may be issued if you exceed these goals.
What's my next step?
1. Find like-minded stay-at-home moms in the same fields of interest. Getting real-life feedback on what these jobs are like is crucial to understanding how you'll build your business.
For example, if you want to blog, join blogging groups on Facebook. If you want to sell LuLaRoe, pick a consultant's brain. Follow websites or social media celebrities that talk about the topic you're interested in.
2. Financially prepare for this transition. The #1 reason I was able to launch an at-home business was because of the financial steps my husband and I took before my business launched. How could I run a business when we couldn't run our budget? How could I quit my full-time job while I spent the time it took to develop my career at home when we owed thousands of dollars in debt?
Our very imperfect journey had many ups and downs, but we overcame the lion's share of those financial hurdles. Today, we are debt-free minus the mortgage and comfortably live on my husband's modest income while we use mine to save for emergencies, traveling, and paying extra on the house.
Your Turn: If you could work from home doing something you enjoy, what would it be? Share with us below!
This post contains affiliate links.
Are you a stay-at-home mom? Check out these bonus resources created just for you!