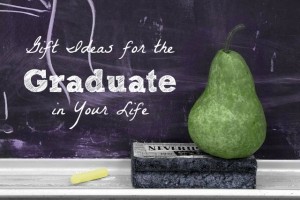 Semesters are coming to a close all across the world. Soon school hallways will be emptying out and summer activities will be ramping up.
If you enter any store this time of year, there is zero shortage of graduate related gifts but the sheer volume of options does't make the gift hunt any easier, if anything it makes it more difficult! Here are a list of ideas what may be appropriate for the graduate in your life.
Young Child
While I personally don't agree with rewarding young children for "graduating" to the next grade some people feel it necessary. At this age, and really, lack of major milestone, it doesn't have to be anything too fancy.
A card, maybe a dinner out. There really shouldn't be too much emphasis on this age.  (note: If the child overcame a major milestone such as doing really well in a subject they've really struggled with and worked extra hard, I may argue a bit differently).
High School
This is the first big academic milestone for most. Sometimes it's the only academic milestone since post secondary isn't for everyone. There are the usual graduation ceremonies and proms that you could offer to help with. As part of my graduation gift my mom paid for my prom-day stuff (half day at the spa) which I would not have spent on myself and really was a nice treat (even if I left with eye shadow that would make any hooker jealous).
Another obvious option may be to offer money to be used for post secondary if you know they will be attending. If you know they're going to university or collage go to the local campus (if you can get there) and buy a book store gift certificate or campus shirt or sweater. They'll be excited to wear their new schools name!
Post Secondary Grad
Finishing a post secondary diploma or degree is a huge accomplishment. Years of hard work have finally paid off and they walk across the stage for a final time. They will be handed a piece of paper symbolizing so much about them, offer to have their degree framed as a gift. They will, after all want to display it proudly.
A watch is always a timeless gift too (make sure give the gift receipt though in case they need to exchange it). Sometimes the student is about to embark into a professional world which may require a new "grown up" wardrobe. Offering to help or provide a gift certificate to allow them to start this collection is both practical and thoughtful (and no, there is nothing wrong with a gift certificate).
And sometimes the best gift is your time. Especially if you're travelling from afar to see them graduate, your presence is the gift. Don't feel required to give more than that! Sharing memories and time are the best gifts of all.
What is the best gift you either received or gave to a new grad? 
Catherine is a first time momma to a rambunctious toddler. When she isn't soaking up all that motherhood has to offer, you can find her blogging over at Plunged in Debt where she chronicles her and her husbands journey out of debt. You can also follow her on Twitter.