Between the endless bags of candy we buy and the Halloween costume ideas that seem to get more elaborate every year, Halloween festivities can certainly get pricey! The good news is, dressing your child up in a great costume doesn't have to break the bank. Fortunately, there are plenty of creative, easy and cheap costumes that you can make at home even if you are not a world-renowned artist or an expert seamstress.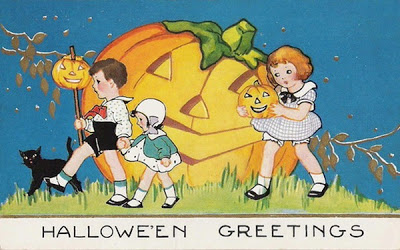 Make Your Own
Think inside the box! It is amazing what you can do with a large cardboard box and some poster and face paint. Using a box that is big enough for your child to fit in, cut out holes for his or her head, arms and legs. A simple box can be transformed into a:
Robot…don't forget the silver face paint and use a smaller box for the head.
Television…ditto with the silver face paint and then add a headband with antenna.
Aquarium…paste some plastic or Swedish candy fish onto the box and cover with a square of clear, blue plastic or plastic wrap.
Some other last-minute and inexpensive Halloween costume ideas include:
Witch or Wizard…dress your child in their own black clothes and add a simple witch or wizard hat and cape.
Monarch Butterfly…dress your child in black and make cardboard wings with a swirly pattern of orange and black.
Mummy…dress your child in white and wrap him or her in white fabric strips or gauze.
Ghost…this costume costs next to nothing if you can part with one of your white sheets, and never goes out of style!
Buy Secondhand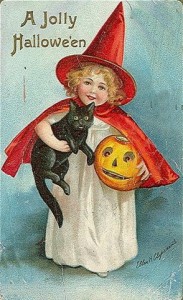 If your child is older or has a specific character in mind that they simply have to have, then secondhand shops can offer an affordable solution. Many thrift stores have a children's Halloween section every fall and carry an amazing assortment of sizes and styles. I was lucky enough to find my son's first choice of costumes the last two years running at my local second hand store (Dracula and Ninja Turtle) for under $10.00 a piece! Not only is a secondhand store a great way to find cheap costumes, it is a green practice as well, as it is a classic example of "reduce, reuse and recycle."
Swap and Shop
If being green is important to you, consider organizing a costume swap at your home and invite a bunch of moms you know who have kids the same age as yours. Invite the kids to come along and make a Halloween play date out of it, complete with apple cider and cookies. Not only can you find a gently used costume this way, you can also explain to your child how swapping is a form of recycling, which helps the planet. If you do not want to host a swap yourself, there is even a website that lists local costume swapping events: www.greenhalloween.org/CostumeSwap.
Do you have other ideas for easy and cheap costumes?  If so, we'd love to hear from you…
Trick-or-Treat!
Where do you get your kids Halloween costumes?