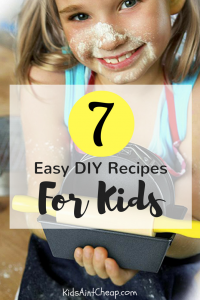 Due to the busyness of life, it's not always feasible for moms and/or dads to be at home when the kids need to eat. Helping them learn to cook for themselves will help them understand responsibility, self-care, and a new way to have fun. Therefore, here are some fantastic and easy recipes kids can make themselves.
7 Recipes Kids Can Make Themselves
1. Salad Bar
Not only are salads healthy, they're easy to make for kids of nearly any age. The ingredient possibilities are endless. If parents keep a variety of fresh ingredients on hand, kids can put together a salad that fits their differing taste preferences. Some ideas for ingredients to have on hand include:
Bagged, pre-washed salad
Cherry or grape tomatoes
Green pepper
Green onion
Cucumber
Deli meat
Hard-boiled eggs
Avocado
Chopped walnuts, sliced almonds or sunflower seeds
A variety of dressings
As long as your child has been taught how to safely use a serrated-edge knife, there's no limit to the ingredients they can include in their salad bar.
2. Sandwiches
As with a salad bar, sandwiches have endless possibilities and don't have to be limited to the traditional PB&J. A variety of deli meats, veggies, cheeses and spreads such as mayonnaise, mustard and guacamole will add an extra boost to the plain sandwiches of yesteryear.
For example, tuna and chicken salad are quick and easy sandwiches that can be spiced up with simple ingredients. Here's an easy recipe kids can make themselves.
1 5-ounce can of tuna or chicken breast, drained
1 tablespoon of mayonnaise or salad dressing
1 green onion, sliced thin
1/2 stick of celery, sliced thin
Mix all ingredients in a small bowl and spread on your choice of bread. Add a slice of cheese and/or pre-cooked bacon if desired.
3. Taco Bar
With only seven easy-to-prepare ingredients, your kids can whip up a taco bar that will please the masses.
Browned hamburger (seasoned with premade taco seasoning)
Bagged, shredded lettuce
Shredded cheddar cheese
A jar of salsa
Diced tomatoes
Sliced green onion
Hard and/or soft taco shells
Want to do your taco bar a bit differently? Substitute the taco shells with tortilla chips and have your child put their nacho creation in the microwave for one minute.
4. English Muffin Pizzas
This recipe can be made in the microwave or in a toaster oven. For each child, have:
1 English muffin, sliced in half (toast in the toaster first if you're using the microwave)
2 tablespoons of pizza sauce from a jar
¼ c. of shredded mozzarella
Additional toppings such as pepperoni, sliced olives or other sliced veggies as desired
Place the two halves face up on a plate or toaster-oven-safe baking sheet. Spread one tablespoon of pizza sauce (I like Chef Boyardee
) on each muffin half. Add desired toppings. Cover each half with some of the mozzarella cheese. Cook the pizzas in the microwave or toaster oven until cheese is melted and bubbly.
5. Homemade Mac & Cheese
This is one of the most popular easy recipes kids can make themselves due to its tastiness and simplicity. Not to mention the health benefits for making it from scratch rather than from a box.
Ingredients:
1 c. of dry macaroni
1/3 c. shredded cheddar cheese
2 slices American cheese
1 tablespoon butter
1/3 c. milk
Salt and pepper to taste
Prepare pasta as directed. When finished, drain and return pasta back into pot. Mix in all ingredients. When all of the cheese is melted and the ingredients are thoroughly mixed it's ready to eat!
6. Creamy Fruit Dip with Fresh Fruit
This healthy and easy-to-make snack is great for after school or after dinner. It makes a terrific breakfast meal as well.
Fruit Dip:
1 c. vanilla yogurt
4 oz. cream cheese, softened
1 tablespoon honey
1 tablespoon brown sugar
1/4 teaspoon ground cinnamon
In a medium-sized glass bowl, beat cream cheese with electric mixer until smooth. Add remaining ingredients and beat until combined thoroughly. Serve immediately or chill until ready to eat. Serve with your choice of fresh fruit, such as strawberries, bananas or apple slices.
7. Banana Parfait Dessert
This simple dessert can be modified to satisfy a variety of different taste preferences.
Ingredients:
1 -3.4 ounce package of Jello instant banana pudding
1 8-oz. container frozen whipped topping, thawed but still cold.
1 medium banana, sliced
4 vanilla wafer cookies
Prepare banana pudding as directed. Add sliced bananas. Place one cup of mixture in a medium-sized bowl or sundae dish. Garnish with vanilla wafers and a dollop of whipped topping.
Substitutions:
Vanilla pudding with strawberry slices
Chocolate pudding with bananas or chocolate chips
Even though these are easy recipes kids can make themselves, they're also great for making with your child. Snag a few of these ideas as you plan your next grocery trip and get ready to make some memories (and a few messes) together with your children in the kitchen.
Finally, if you are a parent you know that children can be really expensive to feed.  If you are interested in possibly cutting down on your expenses, consider something like Amazon's subscribe and save. Subscribe and save is good for things like Z-bars, coffee and laundry detergent. If you use a lot of dry staples like these, it might be worth your time to sign up for it.
If you want to read more about kids in kitchen check out our articles on:
What recipes did you learn to make as a child? Share one with us!
Image Credit: lunar (MorgueFile)
P.S. Are you a stay-at-home mom? Make sure you bookmark or pin some of these resources for later!