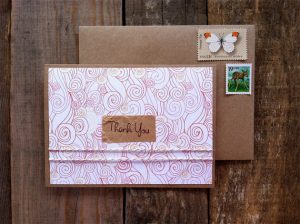 Baby showers are a lot of fun… but they are also a lot of work.  And when you're 8 to 9 months pregnant and trying to get everything ready for baby
, putting in a lot of work can be a challenge (especially if you're still working).  You need about 36 hours in a day – and that just isn't happening. So, from my wife's last baby shower, we put together some baby shower thank you wording templates to make it easy to get them done.  This way, your husband or friend can easily help you get everything done quickly and easily. Feel free to use these for your own baby shower.
Organizing Your Cards
The essential part of making writing thank you notes is organization.  When you're actually at your shower, it can be so hard to keep track of everything because everyone wants to chat, and you're trying to get through a bunch of bags and boxes.  Instead, ask the host of the shower, or maybe your best friend or sister, to keep a list of what you get.
A simple tracking for can include:
Who Gave The Gift

What The Gift Was (Write down everything)
If Money/Giftcard include the Amount
Then, when writing your thank you notes, you can go right down your list, instead of having to track down all the bags, boxes, and look for cards to remember who gave you what.
Baby Shower Thank You Wording for Clothes
You're going to get a lot of clothes
.  Here's a great template for clothing thank you notes:
Thank you so much for the adorable (insert clothing items here).  There's no doubt in my mind that Baby Smith will be decked out in the cutest outfits for the first three years of his life.  Your kindness is overwhelming and your support is so appreciated.  Thank you again for everything! 
How to Say Thanks for Essentials
Essentials include all the random baby toys, diapers, and butt paste that people will give you at your shower.  This includes the basket of essentials
that a lot of people put together to give you. When it comes to baby shower thank you wording for this, you can do something like this…
Thank you so much for the (insert essential items here).  It's a little overwhelming to see how much Baby Smith will need in the first few years of his life, but I'm getting so excited and I'm so thankful to have such a caring group of people to send me into motherhood.  Thank you again for everything.
Money and Gift Card Thank You Notes
A lot of people will simply give you money or giftcards to stores like Babies R Us or similar stores.  That is so useful, but it's sometimes hard to write a thank you note for.
Thank you so much for the (Babies R Us) giftcard).  I thought I had everything I needed for Baby Smith, but it turns out this little guy has quite a preparation checklist to fill.  I really appreciate you thinking of me and thank you again!
The Unusual or Unnecessary Gifts
No matter what, people will stray from your registry, and give you something totally odd.  Or maybe Aunt Mae will have made something that you know your baby will never use.  Regardless, here's a catch-all for the random and unnecessary stuff people will inevitably get you.
Thank you so much for the (odd item here).  I really appreciate you thinking of us and taking the time to (make/find) this for us.  I know that it will definitely be useful once Baby Smith gets here.  I appreciate your support and thank you again!
Ordering Simple and Inexpensive Thank You Cards
You can get classy and custom thank you cards on sites like Amazon, but for most, that really isn't worth it.  Remember, everyone who gets your thank you card will throw it away – and it's more about that thought than anything else. If you and your friends are trying to be green, then you might want to send ecards
instead, just remember to personalize them with the baby shower thank you wording above.
One of my favorite sites for thank you cards is partybell.com. You can find a bunch of other Baby Shower Thank You Cards for extremely reasonable prices on their site.
Hopefully, this helps you make the job of writing thank you cards a little easier, especially given everything else going on at this point in time.