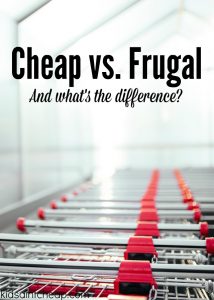 The other day two of my patients were arguing in my room while I was treating their daughter. The parents were arguing about their upcoming house purchase and what they needed to finish up before closing. The conversation quickly turned from excitement to a full-blown argument about how cheap the wife was. The husband wanted to buy all new furniture for one of their rooms while she wanted to use what they had for a while longer. Her argument was that she wasn't cheap, but rather frugal, and had the family's best interest in mind.
This differentiation is one that many people confuse. Though they may seem like similar terms, they're actually quite different in their meaning. To help clarify the issue here are a few instances concerning being cheap and being frugal.
Dining Out
A cheap person may eat out frequently but elect to never tip. If you can't afford to properly tip when dining out, don't bother going, it's cheap to not tip service.
A frugal person may elect to not eat out at all, or much more infrequently, as they would rather spend their money elsewhere. When they do make the decision to eat out they pay for everything, proper sized tip and all.
Product Selection
If a cheap person needs a new mattress for example, they will go out and buy the first cheap mattress they find, the deciding factor being the dollar amount. Even if this mattress falls apart in a few months they see nothing beyond initial dollars spent.
A frugal person will elect to not buy the mattress until they have saved up a dollar amount that will allow them to buy a quality product that will last them years. While they are saving for their upcoming purchase, they may elect to forgo other activities they don't feel are as important as buying the mattress they need.
* This was the argument the wife in my office was trying to make. She didn't want to buy the cheap couch her husband wanted but wanted to wait until the new year and buy a better quality one even if it meant moving into a brand new house with 'crappy old furniture'.
Socializing
When it comes to socializing with friends and family, a cheap person may elect to go to events where they know (or assume) someone else will pick up the tab, or avoid going out, ever, because they don't want to spend the money. This eventually leads to alienation from friends and family.
Someone who is frugal will go out but will likely be pickier about when and where they go but they won't avoid socializing all together. They will also likely come up with alternative social ideas like taking turns hosting a nice dinner in, rather than spending money at a restaurant.
Frugality is a way of life. It can be very advantageous when used wisely and lead to many more opportunities in your life. Being cheap however usually ends up in wasted money and missed experiences. Only one of these ways of life knows the true value of a dollar earned.
Catherine is a first time momma to a rambunctious toddler. When she isn't soaking up all that motherhood has to offer, you can find her blogging over at Plunged in Debt where she chronicles her and her husbands journey out of debt. You can also follow her on Twitter.