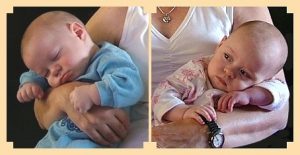 As I have mentioned many times — I'm a Mom of twin boys and I absolutely love it! I have never minded the attention that has come because of our double blessing. I think most parents of twins agree that it's fun (as long as you aren't in a big hurry) and you get to talk to a lot of nice people.
When the boys were babies, people would stop to talk to us wherever we went. I suppose it's hard to miss someone walking by with a double stroller that contains two precious, rosy cheeked babies. Some of the most common questions we were asked – and still get – are:
Are they twins?
Are they identical?
Which one was born first?
Do twins run in your family?
How far apart are they?
What are their names?
I honestly don't mind answering questions about the boys — and I haven't really been offended by any we've been asked (not yet anyway). Some inquiries seem a tiny bit personal, but I have those types of answers all prepared. I'm a people person – and I'm also pretty easy going – so it hasn't ever bothered me too much. My husband used to get a little annoyed with the "Are they twins" question when the boys were babies. He always wanted to say "No, they are triplets but we left one at home." He never said that though. Of course, now when people ask us if the boys are twins – I don't really blame them because they don't look a like. Actually, A. is usually an inch and a half, to two inches taller than N. — always has been.
The fact of the matter is, twins and other multiples are fascinating to a lot of folks. They were always interesting to me, and I guarantee you I asked some silly questions. This is why I thought if I gave you some information about twins — it could help you out when approaching these families.
Facts about twins

Here are is a quick fact about twins that you might find very helpful — especially if you don't know a lot about them.
What is the difference between fraternal and identical twins?
Our boys are fraternal, which means are as different as any other set of siblings — they just happen to be born at the same time. Fraternal twins occur because of a double ovulation; two separate eggs and fertilized separately. Sometimes when people stop us to ask if the boys are twins, they seem surprised and say, "Well, they don't look alike." Not all twins look alike they can actually look very different. One such example would be boy/girl twins — now that's different! I know some people who have b/g twins who get asked frequently if they are identical — I think I may have asked this question myself before. The answer is always no and here's why.
Identical twins are a result of one egg and one fertilization — what happens is, the egg  splits. These twins will look very much alike because they share the same DNA. This is why b/g twins can't possibly be identical. When identical twins are infants – and even as they grow – it may be very difficult for people to tell them apart. However there are certain markings, mannerisms and other subtle differences that can help. Of course, it is important t remember that just because these twins look the same on the outside; they are still different people.
Questions and Comments to Avoid
Even well meaning people can make comments without thinking things through. Some of the most common comments that parents of twins get – and you should avoid saying – are:
"Looks like double trouble."
If I had a nickle for every time I heard this, I'd have enough money saved up to send both boys to college. People say it because it's a catchy rhyme I guess — but I would suggest saying something like "Looks like a double blessing" or "You've got double the joy." These positive comments go over much better with parents of twins. I have had people say these things to me and I appreciated it.
"How do you do it?"
To which I say — "I just do it."
"Better you than me!"
Yes — I agree!
"Oh, he must be the smart one."
Uh…yeah…they are both very smart, thank you very much.
"Your kids are both cute, but she is much prettier."
This wasn't said to my kids — but a stranger did say this to a twin mommy friend of mine. I was shocked when she told me, but what made it worse was that her six year old girls heard the whole conversation. Since that time I have read several posts from other moms who have had the same experience. The sad thing is – many times – it's family members who will say it and even do so in front of the kids.
"Did you have an IVF (in vitro fertilization) done?"
Before I answer, may I ask how your children were conceived?
"Do twins run in your family?"
Yes, and usually in different directions…haha! I actually just saw this on a t-shirt but I'm totally using this next time someone asks. This question is a more polite way of asking someone if they used fertility treatments to conceive their twins. Before asking this question, I recommend getting to know the person a little better first.
As I said before, I know people mean well. We've all said silly things – without completely thinking things through – at one time or another. I know I have done it many times. Nobody's perfect…
Got twins? What are some things you wish people knew about them? Don't have twins but have a question you've been wanting to ask?