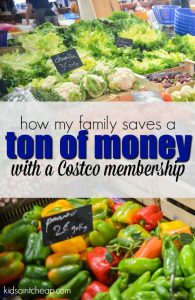 When we first became homeowners six years ago, the first thing we did was go out and invest in a Costco membership.
I couldn't wait to buy 30 rolls of toilet paper, an enormous bag of coffee or 5kg of chocolate chips whenever I wanted. It didn't take us long to realize we really didn't yet need a Costco membership though. We were only two people and one of whom was traveling a lot for work and rarely home.
When the year was up we let the membership expire and didn't really miss it. This all changed four years ago though.
Looking at Why It Didn't Work
The biggest mistake we were making at the time of our initial membership was not pricing out our groceries. We were horrible at meal planning and figuring pricing out. We were wasting money in not planning. We also hadn't looked outside food enough such as baby items (at the time not relevant) or stuff like cat litter.
After I started my first maternity leave, and were forced to have a good long look at how we were spending money, and when I look at our big areas of spending I realize how beneficial the membership actually is to our family.
Baby Stuff
I think my newborns entire infant wardrobe came from Costco. They have amazing and affordable baby clothes. Their price on things like diapers and wipes also made the drive over well worth it.
After we got our membership back I no longer had to scour the sales and wait for a deal when it came to things like diapers because I knew they would be cheaper at Costco than any regular store sale. Now that we're expecting baby #2 I know exactly where we'll stock up on diapers and wipes!
Propane
We have always loved to BBq and try to do it year round as it can be an affordable way to cook. The price of propane at Costco is more than half the price that we were paying at the local gas station. Given that we fill it up every few weeks in the summer we save quite a bit of money.
Coming next year we'll also get our gas from Costco too.
Produce
With an official third mouth to feed, and a husband who was now home more than before, we were going through quite a bit of produce. I did the math and for a lot of our favorite items, it is more times than not cheaper to buy at Costco.
Sometimes it's cheaper for us to buy seasonal items from local stores (like when we have local apples) but non-seasonally, Costco prices and quality is always much better than most local grocery stores.
Services
We have capitalized on many services that comes with our membership such as photocenter or pharmacy. Again the pricing always makes the trip in worth it.
Our city has had a Costco for as long as I remember but the 30 minute drive made it hard to justify becoming a member given than we'd be driving at least an hour return for our trip, but about six years ago we got one closer to us and now it's a part of our regular grocery shopping routine. Costco also has a really great return policy, so I know that pretty much anything we buy at Costco we can return – no questions asked.
I've become price-savvy enough to be able to shop around and know if and when to wait for our Costco trip. It's a fee we don't mind spending as we definitely do save way more per year than our membership costs. We're also at the point now in terms of Costco spending to justify getting the executive membership which, if anything like I expect to earn in cashback, will end up being essentially free for us.
Do you have a Costco membership? How do you make it work for your family?
Catherine is a first time momma to a rambunctious toddler. When she isn't soaking up all that motherhood has to offer, you can find her blogging over at Plunged in Debt where she chronicles her and her husbands journey out of debt. You can also follow her on Twitter.