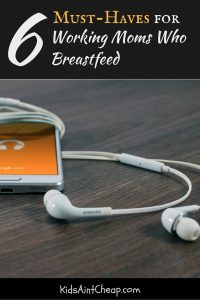 These days, more and more mothers are working outside the home. Toward the end of pregnancy, there is a swarm of decisions that must be made, from what car seat to purchase to what birth plan to use. One of those decisions is whether or not to breastfeed. If you plan on becoming one of the working moms who breastfeed, then here is a list of must-haves to help your transition.
6 Must-Haves for Working Moms who Breastfeed
I worked full-time when my first child was born. After maternity leave, I asked that my hours decrease, but I was still there long enough to require pumping.
Leaving your baby with a sitter and pumping at work is hard. Pumping at work instead of the comfort of your own home isn't that fantastic at first, either.
After a while, though, I did discover several must-haves I was so grateful to use. Here they are.
A top of the line, dual breast pump
I'm a bit of a cheapskate, but I'm so glad someone talked me into buying a Medela Advanced Breast Pump
. My transition into joining the working moms who breastfeed was so much easier than it could have been because of that breast pump.
For more information on quality baby items like the Medela, read here.
A full water bottle
The minute I began pumping, I got thirsty. It would drive me mad not to have water nearby. Keep a quality water bottle freshly stocked at all times – especially when you pump.
A breastfeeding cover
Even if you have total privacy when you pump – and you should – having a breastfeeding cover like this one
is a must-have at all times. It's like have a spare diaper and some wipes on hand. You just never know where you'll end up when you need them.
Besides, if you're tense when you pump, you produce less milk and the process takes longer. That can be incredibly frustrating. Invest in something that will help you feel at ease.
Something to do
Pumping at work takes time, and you just sit there. Even though your hands are somewhat tied up, be sure to bring something along to entertain yourself. You could listen to music, an audio book, or a podcast. Or you could read (it can be done).
Or you could count ceiling tiles when you forget to bring something. ::sigh:: I've been there.
Storage bags
Breast milk storage bags were also crucial to my success as one of the working moms who breastfeed. They're designed to hold enough for a single serving and hold up well in a freezer. You're able to write the date on each one which makes sure your baby gets milk before it expires.
These storage bags were my favorite because they could be attached directly to my Medela breast pump – with the correct accessory. That saved SO much time with a lot less clean up.
A firm understanding of your rights
The biggest thing I'd want working moms who breastfeed to understand is their rights in the working place. They are legally permitted to take breaks to pump as often as necessary. Employers are required to provide a private room, other than a bathroom, during these break times.
Obviously, harassment from co-workers or their unwillingness to comply with regulations is illegal.
Breastfeeding is a wonderful gift you can give your baby. Know your rights. Click here for more information.
Would you add any must-haves for working moms who breastfeed to this list?
Image Credit: William Iven (UnSplash)
This post contains affiliate links.