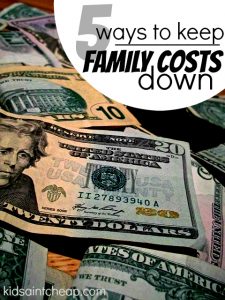 A family, as a unit, is expensive. There are a lot of expenses when multiple people are involved and the costs add up- quickly. If you're not careful these costs can bust a family's budget but with a little planning you can find a decent balance. There are a few areas that are more obvious when it comes to the question ''where is all the money going?'' but since being aware of it is half the battle you can try to avoid the creeping costs all together.
Meal Plan
Food is a massive portion of a family's budget and meal planning is the easiest way to avoid going over in the food category. If you're looking to keep costs down, meal planning is a must. Involve everyone in the family to make sure everyone has a say. You can also involve the older kids in the cooking of the meals they help plan.
Prioritize Extracurriculars
Most people have interests, hobbies and extracurricular activities. If everyone did everything they wanted all the time it would likely be much too expensive. Sit down as a family and prioritize what is most important to everyone and come up with a financial plan to keep both family members, and budget- happy. It's not fair if one kids plays hockey, soccer, piano lessons and takes art classes but you tell kid #2 you can only afford for them to play soccer because there isn't enough money left in the budget. Things need to be fair for everyone!
Limit Vacations
Vacations, especially ones that involve airfare, are expensive. Rather than trying to plan a vacation every year take some time off and enjoy cheap fun around home. Save the larger trips for every few years (if even that frequent) and find cheaper ways to enjoy time off. When (and if) you do plan a larger trip shop around and capitalize on reward programs as much as possible to keep costs down.
Shop Used
Certain things can definitely be purchased used, especially children's items like clothes and toys. You can save huge amounts money by shopping around and looking online and in second hand stores. The speed at which kids grow gives a large selection of gently used great quality clothes and toys to choose from.
Limit Eating Out
Eating out is expensive especially when multiple people are involved. There are ways to do it (like capitalizing on kids eat free nights) but the best way to save money is to do just that- save it and eat at home. Save eating out for special occasions only and everyone will enjoy it much more when it's an anticipated treat.
Though having a family has more costs than being single or a couple there are ways to avoid letting the family costs consume all your money. It takes a little planning and awareness but it is possible to keep family costs down!
How do you keep family costs down?
Catherine is a first time momma to a rambunctious toddler. When she isn't soaking up all that motherhood has to offer, you can find her blogging over at Plunged in Debt where she chronicles her and her husbands journey out of debt. You can also follow her on Twitter.