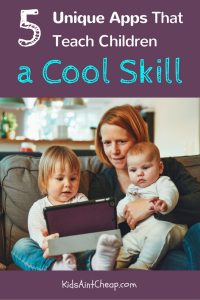 Apps seem to be a dime a dozen these days, so finding the right ones can be daunting. When I search through the sea of choices, it's much simpler to choose something with ABC's and 123's to ensure it educates my kids. But then I wondered, are there any apps that teach children a cool skill instead of just the basics?
Yes, "cool" is relative, but after some digging, I found some unique options for you to try.
A Quick Word About Screen-Time for Young Children
We all know that screen-time is best used in moderation. However, in recent studies, I've discovered one other significant reason to limit my children's time parked in front of the screen. Even if it's educational material, I believe this is still an important thought to consider.
According to this study released on NPR.org, when children decrease their time in front of screens, they are able to read human emotions more easily. The ability to learn from communication, social cues, and problem-solving with others is a need that humans have their entire lives. Using a screen removes the interactive portion of development and threatens to affect a child's social behavior well into adulthood.
I definitely give my kids screen-time, but I also try to spend a lot of unplugged time with them. That door swings both ways. The kids have to put away their gadgets, and mom must put down her phone.
Bonus Reading: "7 Screen-Free Activities for Preschoolers"
5 Apps That Teach Children a Cool Skill
Cursive Writing Skills – Cursive Writing Wizard Letters
Cursive writing is no longer required in many schools, even though it's one of the most beautiful art forms we each can learn. To help your young child develop her own skills with cursive, try this app.
After using the app for a time, work together on writing the real letters on paper so she can better apply what she has learned.
Foreign Language Skills – Duolingo
Never has it been more relevant than today to teach your child a second language. Expose him to the rich diversity of languages throughout the world with Duolingo – from Spanish to Italian to Chinese.
Sign Language Skills – ASL Kids
Another amazing skill your children might enjoy learning is American Sign Language. Both of my children started learning when they were infants and loved mimicking my motions. As they got older, we spent time each day at the breakfast table going through their letters, numbers, foods, colors, days of the week, etc.
For something that is so fun to practice and so beneficial to those who use sign language as their primary form of communication, this is definitely one of my top apps that teach children a cool skill.
Money Management Skills – Dinorama
Available for iOS
How better to understand money management, multi-tasking, and running a business than to run your own dinosaur theme park? Dinorama offers children (age 7 and up) the challenge of building their empire from the ground up. This can lead to some great conversations at the dinner table or in the car (after the game is put away) about money management in the real world.
Creative Drawing Skills – Toontastic
Available for iOS
Try Painting Drawing Dooble Kids as an alternative for Android.
Learning to draw can become a lifelong hobby or even a career. With today's booming commerce on the internet, the creatives have more avenues in which to publish their work than ever. If your child enjoys doodling, cartooning, or any other type of illustration, try out Toontastic.
Do you have older children? Check out "Essential Apps Every Student Must Have."
Which of these 5 apps would you have loved to use when you were a kid? Share in the comments below.