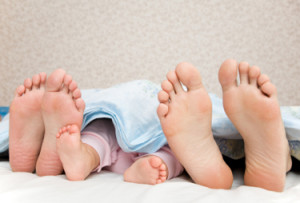 This is a post I never thought I would write. A family bed was a totally foreign concept to me before having a baby. I didn't know that people choose to sleep with their child – that it was a thing. If you had asked me before having a child if they would sleep with us, I would think you were crazy and quickly answer, no. My husband and I didn't intentionally set out to establish a family bed with our daughter, it just sort of happened.  I learned firsthand the importance of sleep and structure.
How Our Family Bed Started…
It started while I was in the hospital recovering from my cesarean section. Our new baby was in the bassinet beside my hospital bed, my husband asleep in his bed near my feet. Baby girl would wake and I would need to nurse her. Shifting, even a little after my surgery was difficult, only complicated more by tubes and wires. I didn't want to wake my husband knowing I needed him on his A-game during the daytime. I had access to nurses but at 2am I decided their skills were better for new moms who needed them beyond passing a baby. I reached for her one last time and brought her into my bed, propped with pillows and tight in my arms, we both fell asleep almost instantly.
We came home and quickly realized I would not be able to sleep in our bed for a least a few days. Our bed is quite high off the ground and even with the help of a stool I couldn't easily pull myself in bed. I decided to sleep on our couch until I regained more strength and have the baby in her bassinet beside me.
After about ten days, I was finally able to get into my bed and moved the bassinet in our room where we all slept. I knew I wanted our baby close for the first few months but didn't realize how close I wanted her.
Our baby girl was very predictable, waking every three hours on the dot. She would wake in the night and I would lift her out of her bassinet, carry her to the chair where I would nurse her and rock her back to sleep praying that she didn't wake as soon as she was out of my arms and back in her bassinet.
From the time we both woke until the time I crawled back into bed was at least  45 minutes. I didn't mind initially, fulling expecting and accepting lost sleep with a baby. Problem being that baby girl was starting to wake almost every 2 hours with little sleep between wake times. We were both exhausted.
After a few weeks of rocking and praying for her to sleep, one especially exhausting night I couldn't find the strength in me to wake up and move for our normal routine. I picked her up out of her bassinet, laid her down beside me to nurse where she ate and we both quickly fell back asleep. It was great. We all, husband included, slept great that night.
Getting Back Sleep With The Family Bed
This was the beginning. I would try her in the bassinet but usually ended up moving her in with us so we could all sleep. Baby girl and I would both continue to slightly wake when she would eat but never fully and never for long. It wasn't long that we all grew to love our sleeping arrangement and I would put her down for the night in our bed, hours before my husband and I were ready for bed.
Today she is eight months old and this is still how we sleep the majority of the time. She now goes to bed in her crib but when she wakes during the night I don't fight her. If I can't get her back to sleep in a reasonable time, she comes to bed with us. I've accepted that there is no perfect solution for every family and for us, this works. She's growing so fast I know I'll appreciate the closeness that we're sharing, as a family,  in her early days. I love waking to her slobbery kisses and blabbering.
Do you have a family bed at home?  Did you try it when nursing?
Catherine is a first time momma to a rambunctious toddler. When she isn't soaking up all that motherhood has to offer, you can find her blogging over at Plunged in Debt where she chronicles her and her husbands journey out of debt. You can also follow her on Twitter.